November 24, 2011 – 5:13 pm
Wishing you and yours a lovely holiday filled with food, friends, and family!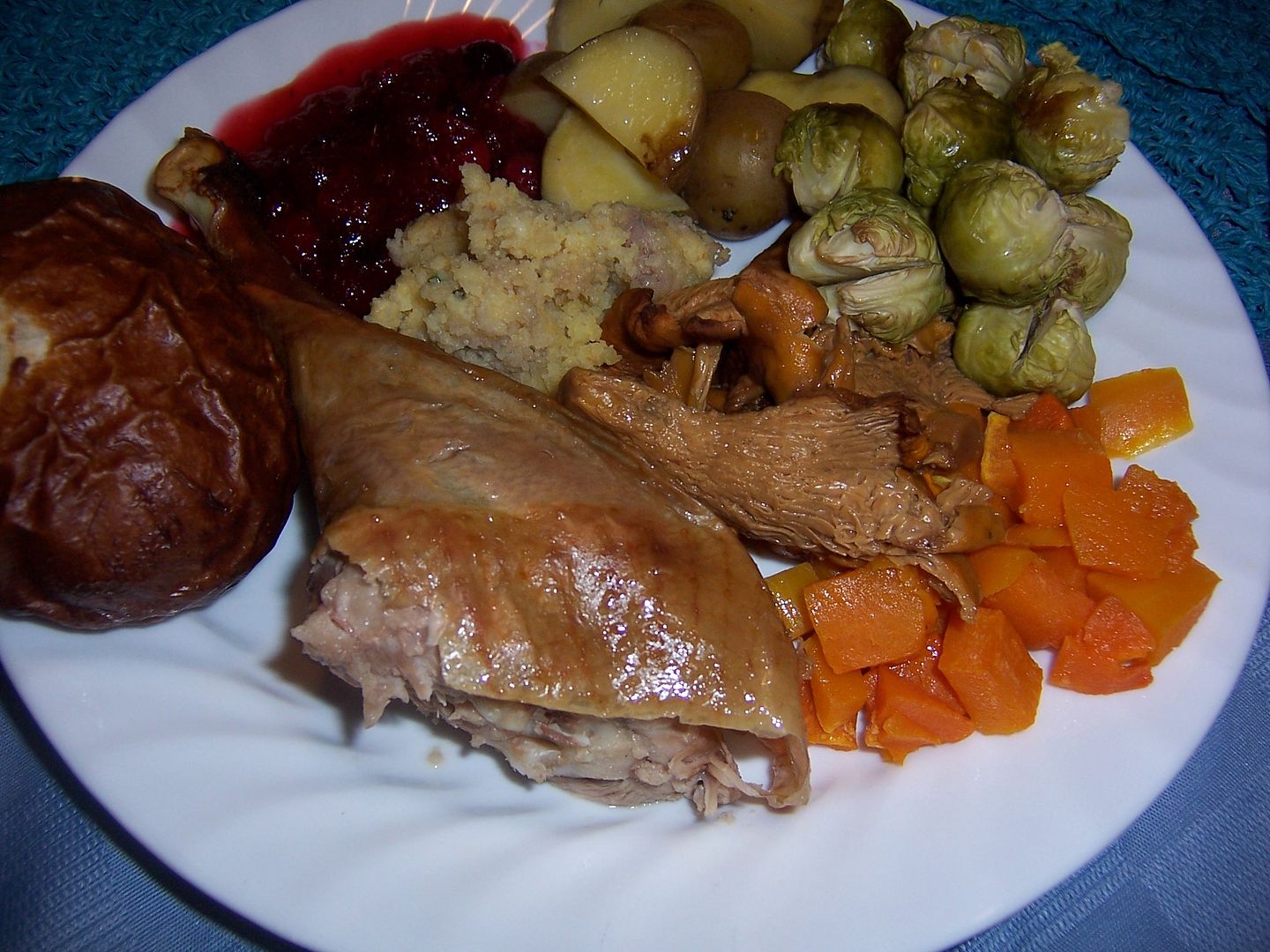 On the menu for us this year:
Brined Turkey and Pan Gravy. I used Simply Organic Turkey Brine Seasoning this year, and since I got a little bitty 10 lb turkey, I only used about 2/3 of the mix in 1 gallon of water, and brined for 12 hours to keep it from getting too salty.
Homemade Cranberry Sauce. This year I added some orange zest, which turned out well. I added about 2 tsp, and I think I'd cut it back to 1 next year but still add it.
Cornbread Stuffing (see below for recipe)
Roasted Chanterelle Mushrooms (just cooked alongside the squash and brussels sprouts)
Dinner rolls. I used a pretzel bread roll this year.
Pumpkin Pie. This year, I bought one from Seattle Pie Company, and it was almost as good as homemade.
Cornbread Stuffing
Serves 8
4 tbsp unsalted butter
1/4 cup thinly sliced green onion
1 tsp fresh thyme leaves (1-2 stems)
1/2 tsp fresh chopped sage leaves (4-5 leaves)
1 cup chicken stock
1 batch prepared cornbread (I used Wildtree's Texas Cornbread Mix, which turned out very well.), cooled, cut into small cubes, and dried overnight
Melt the butter and pour it into a large bowl. Add the stock, onion, and herbs and stir to combine. Add the cornbread and gently toss to evenly coat.
If using the stuffing to stuff a bird, gently spoon the mixture into the neck and body cavities, loosely packing it. Spoon any excess into a baking dish and cover with foil.
If baking the stuffing separately, preheat the oven to 350 degrees, spoon the stuffing into a large baking dish, and bake covered for 30 minutes, then uncover and bake for a final 10 minutes to crisp the top.