November 26, 2009 – 8:13 pm
We had a lovely Thanksgiving dinner, and finished it off with pumpkin pie. I got some organic canned pumpkin this year that just seemed much tastier than the usual kind. I follow the recipe on the Libby can, but modify the spices to our tastes.
Thanksgiving Dinner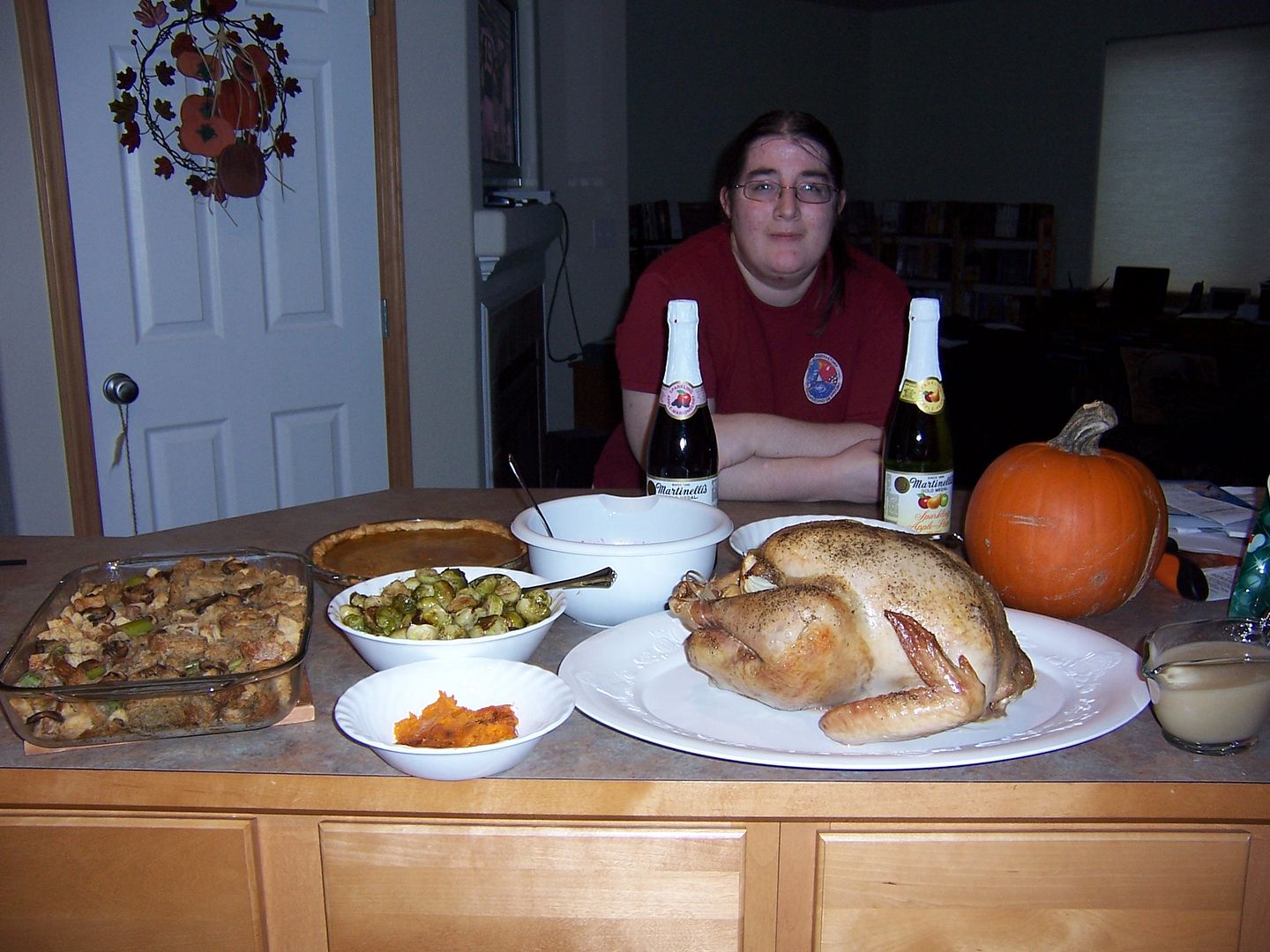 Brined turkey with pan gravy
Sourdough dressing
Boiled Yukon Gold potatoes
Baked sweet potato
Roasted brussels sprouts
Homemade fresh cranberry sauce
Stay tuned for my leftovers round-up!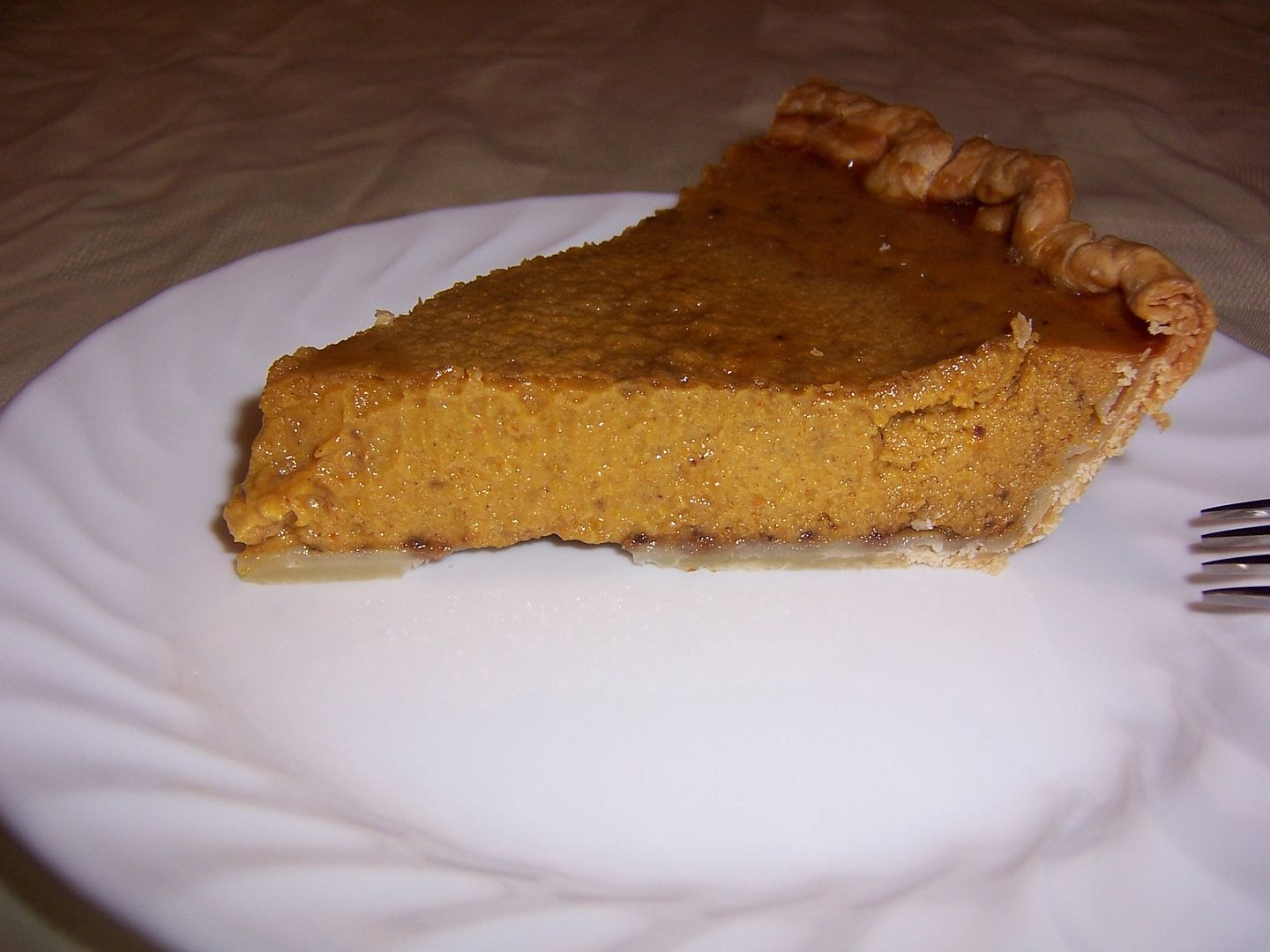 Pumpkin Pie
Makes 1 9-inch pie, 8 servings
¾ cup sugar
½ tsp salt
1 tsp ground cinnamon
½ tsp ground ginger
¼ tsp ground cloves
¼ tsp allspice
¼ tsp ground nutmeg
2 large eggs
1 15 oz can 100% pure pumpkin
1 12 fl oz can evaporated milk
1 unbaked 9 inch deep dish pie shell (my recipe below)
Preheat oven to 425 degrees F.
Mix the sugar, salt, cinnamon, ginger, and cloves in a small bowl. Beat the eggs in a large bowl. Stir in the pumpkin and sugar mixture. Gradually stir in evaporated milk.
Pour the pumpkin mixture into the pie shell.
Bake in 425 degree oven for 15 minutes.
Reduce temperature to 350 degrees; bake for 40-50 minutes or until knife inserted near center comes out clean. Cool on a wire rack for 2 hours. Serve at room temperature or if making ahead of time refrigerate and serve chilled.
Pie Crust
Makes 1 9 inch pie crust. Can be doubled to make two for a covered pie.
Ingredients:
1 ¼ cups flour
½ tsp white sugar
½ tsp salt
10 tbsp cold butter, divided
3 tablespoons ice water
Mix together the flour, sugar, and salt. With a pastry cutter, quickly cut in 8 tablespoons of the butter into the flour mixture until the butter is approximately pea-sized. Add the final two tablespoons of butter and cut in until most of the mixture looks like coarse breadcrumbs with some pea-sized chunks left. Drizzle two tablespoons of ice water over the mixture and cut it in with a rubber spatula. If the dough starts to form balls that stick together when pressed, the dough is moist enough, otherwise add up to another 2 tablespoons of ice water. Press the dough with your hands into a disk, wrap tightly in plastic, and chill for at least half an hour and up to 2 days. After chilling, pull out the dough and place it on a lightly floured surface. Roll from the center out until the dough is approximately 3 inches wider all the way around than the pan. Gently roll the dough around the rolling pin (making sure there is enough flour to prevent sticking) and transfer the dough to the pie pan. Press it in place and crimp or flute the edges.