September 10, 2008 – 5:32 pm
This is an easy Asian-inspired meal. The stir fry comes together quickly, and making your own teriyaki sauce is easy and delicious.
I've entered this in Joelen's Chinese Cuisine Adventure.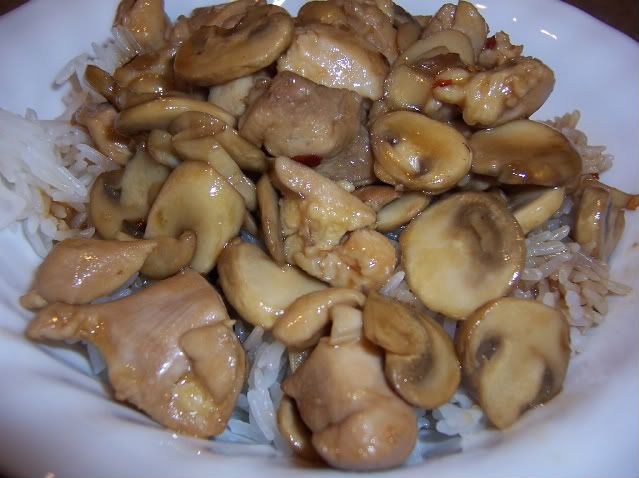 Teriyaki Chicken Bowls
Serves 4
Rice:
1 ⅓ cups dry jasmine rice (i.e. 2 rice maker measures full)
Stir fry:
½ tbsp vegetable oil
½ tbsp sesame oil
1 lb skinless boneless chicken thighs, cut into bite sized pieces
8 oz mushrooms, sliced
Teriyaki Sauce:
½ cup soy sauce
½ cup dry sake
4 tbsp mirin or sweet sake
3 tbsp sugar
sprinkle of red pepper flakes
1 tbsp of cornstarch dissolved in 3 tbsp of water
Cook the rice in a rice cooker according to the manufacturer's directions.
While the rice is cooking, make the teriyaki sauce. To a saucepan, add all the ingredients except for the cornstarch slurry. Stir to dissolve the sugar and bring to a gentle boil. Add the cornstarch mixture and stir to combine. Bring back to a boil to thicken the sauce, then reduce heat to low and keep warm.
When the rice cooker switches to warm, heat the oils in a wok or large skillet over medium high heat (I dial my electric wok to about 350 degrees F). When it just starts to smoke, add the chicken pieces and let sit for one minute, then stir until just about cooked through and nicely browned, about 5 minutes total. Push the chicken to the sides of the pan and add the mushrooms. Toss them in the center of the wok for 2 minutes or until they're browned and starting to get tender. Stir them in together with the chicken and cook for another minute. Turn off the heat. Add the teriyaki sauce and stir to combine. Serve over rice.
Nutritional Information Per Serving
(not including rice, assuming all sauce is evenly divided and eaten)
| | |
| --- | --- |
| Calories | 325 |
| Fat | 15 g |
| Saturated Fat | 3 g |
| Cholesterol | 72 mg |
| Sodium | 2112 mg |
| Carbohydrates | 15 g |
| Fiber | 1 g |
| Protein | 24 g |
| Vitamin A | 1% |
| Vitamin C | 2% |
| Calcium | 2% |
| Iron | 10% |