July 3, 2008 – 8:54 am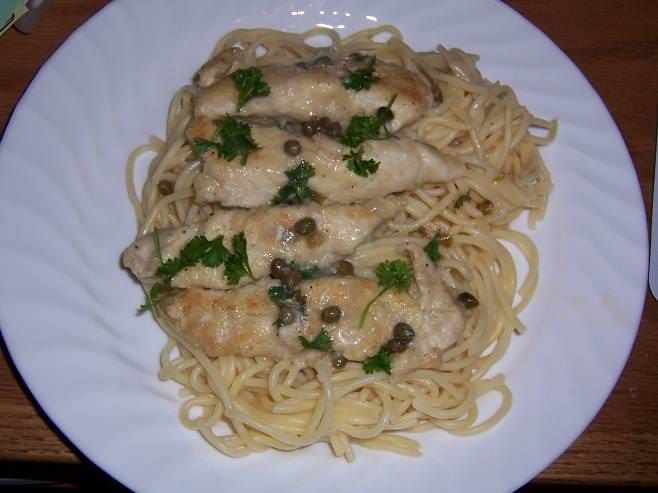 Last night I made my version of chicken piccata for dinner. It turned out quite tasty as always. Emma even got to try a noodle 🙂
Chicken Piccata
Makes 4 servings
Ingredients:
1 Tbsp olive oil
1 lb chicken tenderloins or thinly sliced skinless boneless chicken breast
Salt and pepper
4 tbsp flour
2 medium cloves garlic, minced
2 Tbsp drained capers
1 cup reduced-sodium chicken broth
¼ cup fresh lemon juice (1 lemon)
1-2 Tbsp minced fresh parsley
Pat chicken with paper towels to thoroughly dry. Mix together the flour with salt and pepper to taste. Lightly coat the chicken with flour, shaking off any excess. Putting the flour and seasonings in a large plastic bag and shaking the chicken makes this step easy and much neater.
Heat the olive oil over medium heat in a skillet. Cook the chicken for 2 to 3 minutes on each side, until golden brown and cooked through. Remove to a plate.
Reduce heat to medium low; add garlic and capers to skillet. Cook for 30 seconds, or until the garlic is fragrant. Add two tablespoons of the flour mixture and stir to coat completely with oil, making a roux. Add broth and lemon juice, increase heat to medium high, and cook for another minute or two, stirring constantly, until the residual flour is completely incorporated and the sauce is starting to thicken. Stir in parsley. Return the chicken to the skillet and turn to coat completely in the sauce. Serve immediately over pasta.
Nutritional Information Per Serving
| | |
| --- | --- |
| Calories | 292 |
| Fat | 15 g |
| Saturated Fat | 2 g |
| Cholesterol | 66 mg |
| Sodium | 1102 mg |
| Carbohydrates | 9 g |
| Fiber | 1 g |
| Protein | 29 g |
| Vitamin A | 2% |
| Vitamin C | 15% |
| Calcium | 2% |
| Iron | 9% |