November 11, 2008 – 7:28 pm
This hearty recipe is handed down to me from my mother and was a staple in the house while I was growing up. She's allergic to onions, and so always used zucchini instead for the veggie base, and I think it's a great flavor. When I was very little, I couldn't quite say "spaghetti," so this was dubbed "skabetti sauce," and thus it always will be 🙂
This is a great cheap and easy meal that can feed a crowd. It also freezes amazingly well. Just reheat on the stove top with a touch of water in the pan. I've served it here over spaghetti noodles with garlic bread.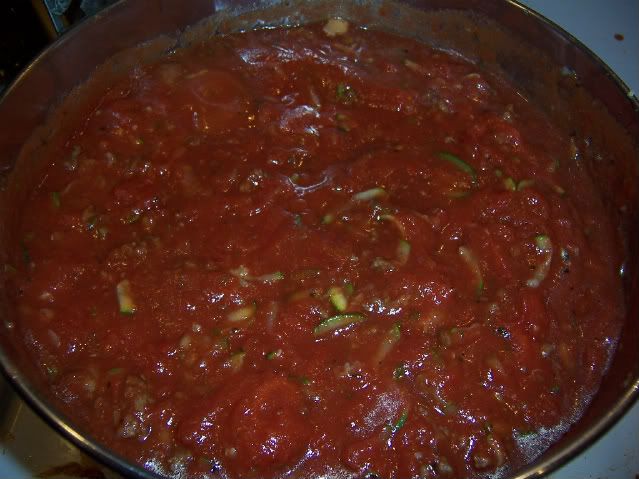 Spaghetti Sauce
Makes about 3 quarts
1 tbsp olive oil
5 cloves garlic, pressed
1 lb ground beef
½ tsp kosher salt
1 tsp black pepper
1 tbsp dried oregano
½ tsp dried basil
1 lb zucchini, grated
1 #10 can diced tomatoes (about 12 cups total – equivalent to about 3½ 28-oz cans of diced tomatoes)
1 6-oz can of tomato paste
1 tsp sugar
Heat the oil over medium heat in a large saucepan or small stockpot. Add the garlic and cook until fragrant and just starting to turn golden. Add the meat and stir. Add the herbs and spices and brown the meat. When it is nicely browned, add the zucchini and stir to combine. Let the mixture cook until the zucchini is translucent and wilting down.
Add the tomatoes and tomato paste and sugar and stir well. Bring to a low boil and reduce heat to medium low. Let simmer for at least half an hour. Taste and add more oregano and basil if desired. Let simmer for at least 5 minutes after any addition to allow the flavors to mingle, then taste again. The sugar really balances the flavors in the sauce without tasting sweet, so if your sauce is missing something undefined, make sure that you didn't skip the sugar.
Serve over pasta or bread.
Nutritional Information Per ½ Cup
| | |
| --- | --- |
| Calories | 72 |
| Fat | 3 g |
| Saturated Fat | 1 g |
| Cholesterol | 13 mg |
| Sodium | 406 mg |
| Carbohydrates | 8 g |
| Fiber | 2 g |
| Protein | 5 g |
| Vitamin A | 12% |
| Vitamin C | 19% |
| Calcium | 3% |
| Iron | 5% |