November 8, 2008 – 6:02 pm
This is a very basic risotto recipe adapted slightly from the back of the arborio rice jar. It only called for 3 cups of broth, and I found that wasn't enough. I also omitted the onion (it called for 0.5 cup of chopped onion) and added garlic instead. The type of rice you use for risotto is important – the arborio type will become tender and creamy and perfect while other kinds won't plump up as well. I enjoyed this very much, but Shaun wasn't much of a fan of the texture. I served this as a side with some galbi and sautéed yellow squash.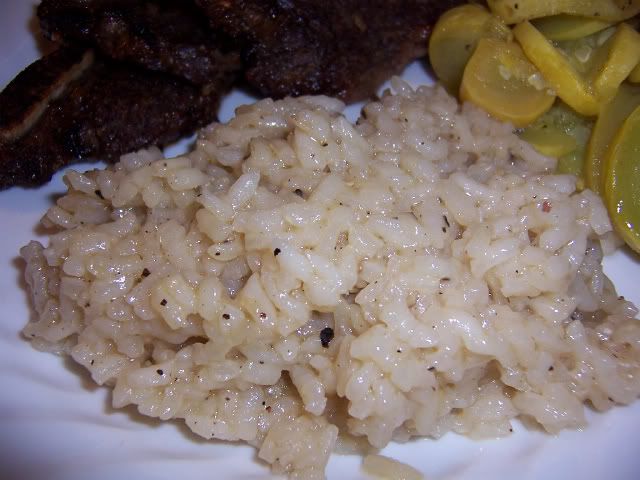 Basic Risotto
Serves 4 as a side dish
2 tbsp butter
2 tbsp olive oil
2 cloves garlic, pressed
1 cup arborio rice
4 cups chicken broth
Salt and pepper
In a saucepan, heat the broth, letting it simmer over medium low heat. In a large skillet, heat the butter and olive oil in a skillet over medium heat. Add the garlic and sauté for 30 seconds or until fragrant. Add the rice and cook for 2 minutes, stirring to coat in the oil. The grains will appear translucent after this. Add one cup of the broth to the rice and stir to combine. Add salt and pepper to taste. Stir occasionally. When the broth is mostly absorbed, add another cup of broth. Continue this process until all the broth is gone and the rice is tender. Taste and adjust seasonings if necessary. Serve hot.
Nutritional Information Per Serving
| | |
| --- | --- |
| Calories | 227 |
| Fat | 12 g |
| Saturated Fat | 5 g |
| Cholesterol | 15 mg |
| Sodium | 761 mg |
| Carbohydrates | 39 g |
| Fiber | 0 g |
| Protein | 6 g |
| Vitamin A | 4% |
| Vitamin C | 1% |
| Calcium | 0% |
| Iron | 1% |