November 6, 2010 – 6:04 pm
Starting from my basic risotto recipe I added sauteed chopped chanterelle mushrooms and just a little finely grated black truffle on top to this version for a rich and delicious side dish. The black truffle is of course easily omitted; I just saw them in Central Market next to their gorgeous local chantarelles, and had to get a little one to try. At $240 per pound, I grabbed the smallest one, for a bit under $8, and it was perfect for this little batch of risotto. The earthy richness was a really nice addition that I'd definitely do again for special occasions. This was a side for a top round lamb roast along with some roasted brussels sprouts.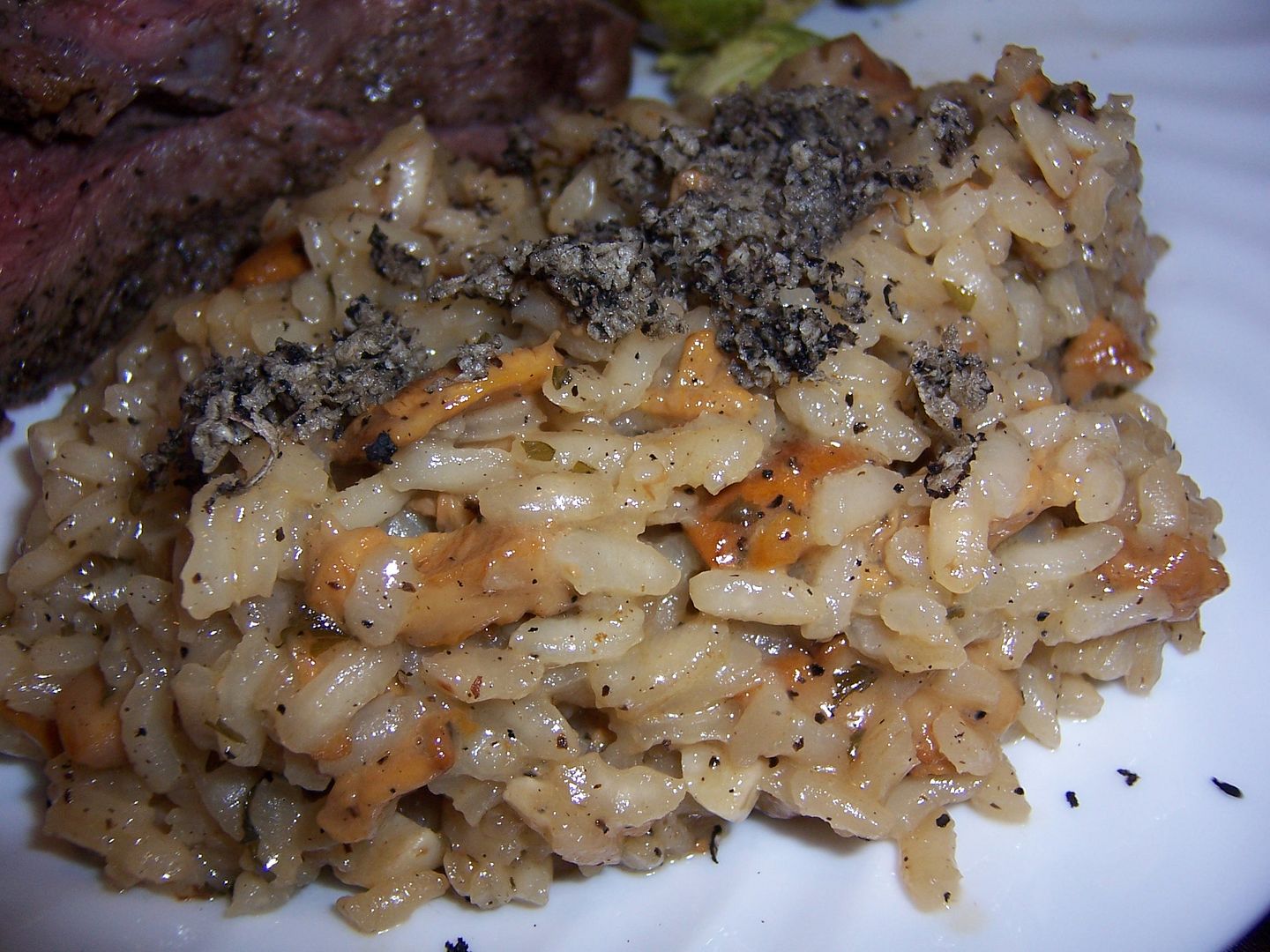 Mushroom Risotto
Serves 2
2 cups low sodium chicken broth
1 tbsp olive oil, divided
8 oz chanterelle mushooms, coarsely chopped
1/2 tbsp unsalted butter
1 large clove garlic, finely minced
1/2 cup arborio rice
1 small bottle (187 ml) chardonnay or other somewhat dry white wine
1 tbsp finely chopped fresh parsley
1/2 oz black truffle (optional)
Pour the chicken broth in a saucepan and place in on a burner over medium low heat.
Pour 1/2 tbsp of the olive oil in a large skillet and put in over medium high heat. Add the mushrooms and saute until tender, 3-4 minutes. Remove the mushrooms and all the liquid to a bowl and set aside.
Add the other 1/2 tbsp of olive oil and the butter to the skillet and place it back on the heat, reducing the temperature to medium. Add the garlic and cook until just turning golden and fragrant. Add the rice and stir to coat well. Cook the rice in the oil until the grains start to turn translucent and are a little bit toasted, 1-2 minutes. Add the wine and stir to deglaze the pan. Continue stirring until the wine is nearly all absorbed or reduced away, 2-3 minutes.
Add 1/2 cup of the chicken broth and stir it into the rice. Continue stirring regularly as the rice absorbs the liquid. When the liquid is almost all absorbed, add another half cup of broth and stir again. Continue in this manner until all of the broth is absorbed and the texture is tender and creamy, adding the mushrooms and parsley with the last half cup of broth. This will take about half an hour. Taste a few grains of rice to see if they are tender, and if not, add some water, a quarter cup at a time, and continue to stir and cook until the new liquid addition is absorbed.
Spoon the risotto onto plates and, if desired, top with a little freshly grated black truffle.