October 22, 2008 – 5:49 pm
This is a quick bread (i.e. leavened without using yeast). It's very easy to customize by adding your favorite herbs, spices, or even cheese to the batter before baking. I usually skip the extra butter on top, and did this time as well. Make sure to use a lighter colored beer. This time around I used a Henry Weinhard's India Pale Ale, brewed here in the Northwest, and I think turned out particularly well.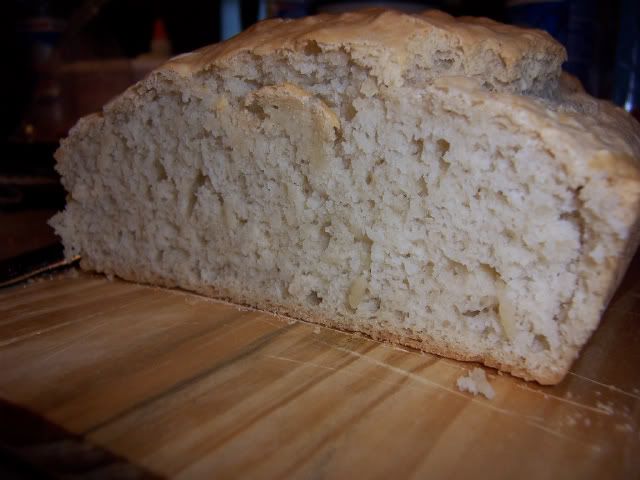 Beer Bread
Makes 1 loaf
Ingredients:
3 cups flour
3 tsp baking powder
1 ½ tsp salt
3 tbsp white granulated sugar
1 12-oz bottle of beer
Non-stick spray
2 tbsp butter, melted (optional)
Preheat oven to 375 degrees.
Sift together the flour, baking powder, salt, and sugar. Add the beer and stir together until combined completely. Scoop the dough into a 9 inch by 5 inch loaf pan that has been prepared with non-stick spray. If desired, pour melted butter over the top of the loaf.
Bake for 1 hour. Serve with butter.
Nutritional Information Per Slice
Assumes thick slices – 8 slices per loaf
| | |
| --- | --- |
| Calories | 189 |
| Fat | 0 g |
| Saturated Fat | 0 g |
| Cholesterol | 0 mg |
| Sodium | 440 mg |
| Carbohydrates | 40 g |
| Fiber | 1 g |
| Protein | 5 g |
| Vitamin A | 0% |
| Vitamin C | 0% |
| Calcium | 8% |
| Iron | 10% |