September 21, 2010 – 5:29 pm
This recipe was inspired by my bierock recipe (German bread dumplings filled with a mixture of ground beef, onion, and cabbage). Omitting the bread makes it a bit healthier, and pork chops seemed to fit with this method of cooking better than ground beef. The beer lends a subtle flavor to the pork and a stronger flavor to the cabbage, but it's not really a beer flavor, if that makes any sense. At any rate, this was weird, but good. Next time I'd use a little thicker pork chop, as these super thin ones got just a touch dry.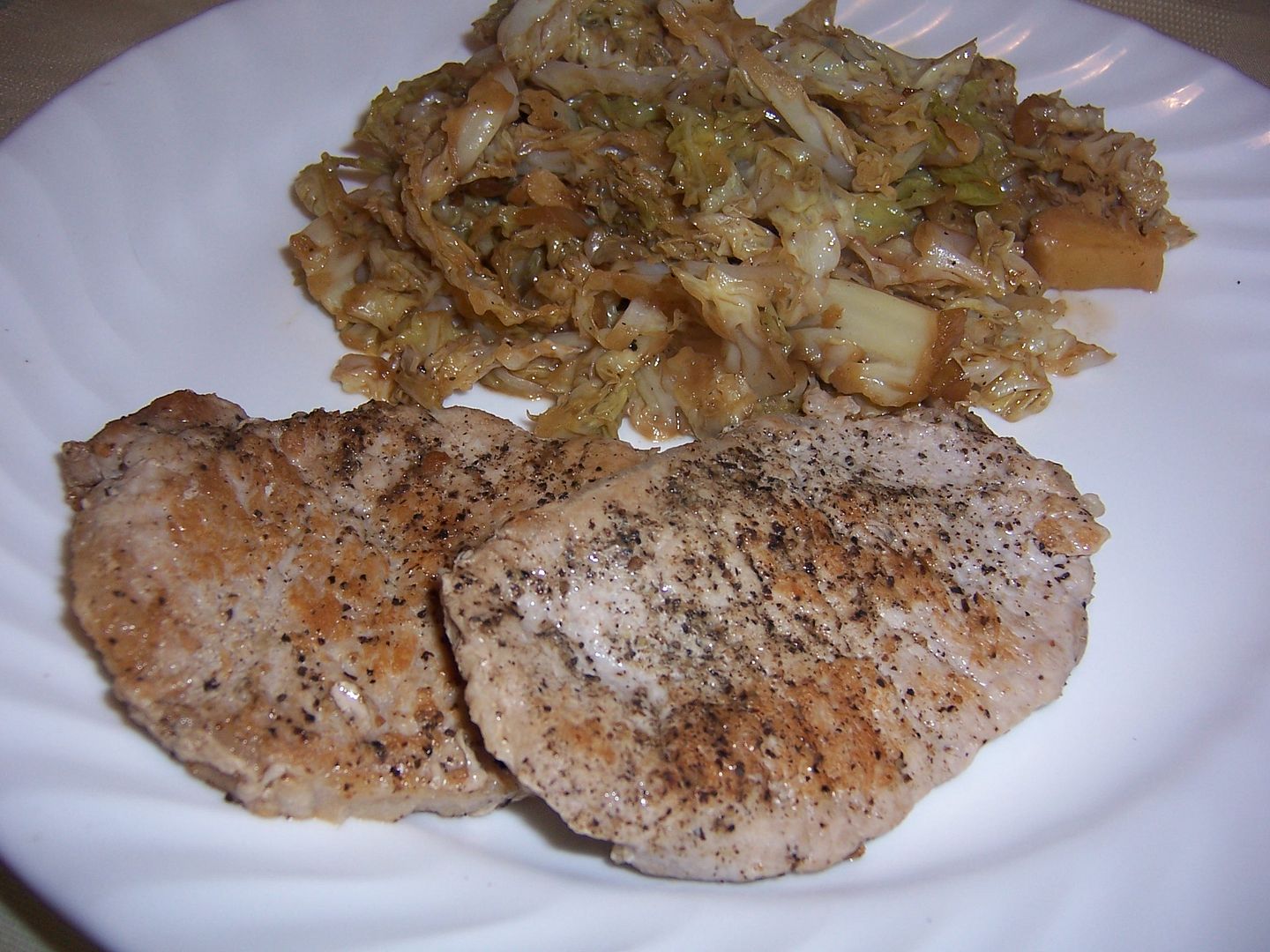 Beer Braised Pork Chops and Cabbage
Serves 3 generously
1 tbsp canola oil
6 thinly sliced pork chops, about 1.2 lbs
Kosher salt and black pepper
1/2 cup finely diced yellow onion (1/2 of a small onion)
1 cup water
2 large cloves garlic, pressed
1 small head green cabbage, thinly sliced
1 tbsp Worcestershire sauce
1 bottle (12 fl oz) beer (I used the locally brewed Scuttlebutt Amber Ale)
Season the pork with salt and pepper. Heat the oil in a large skillet over medium heat. Add the pork chops and brown on both sides, 2-3 minutes per side. Remove the pork to a plate and add the onions stir and add water as necessary to deglaze the pan as the onions caramelize, about 5 minutes total. Add the garlic and stir to combine. Add the cabbage and season with salt, pepper, and Worcestershire sauce. Add the beer and return the pork and any accumulated juices to the pan. Cover and braise for 7-12 minutes or until the cabbage is wilted. Stir the vegetables and serve warm.