October 26, 2008 – 7:24 pm
These are a classic Oktoberfest food – bread filled with a savory beef and cabbage filling. They are surprisingly easy to make, though somewhat time-consuming.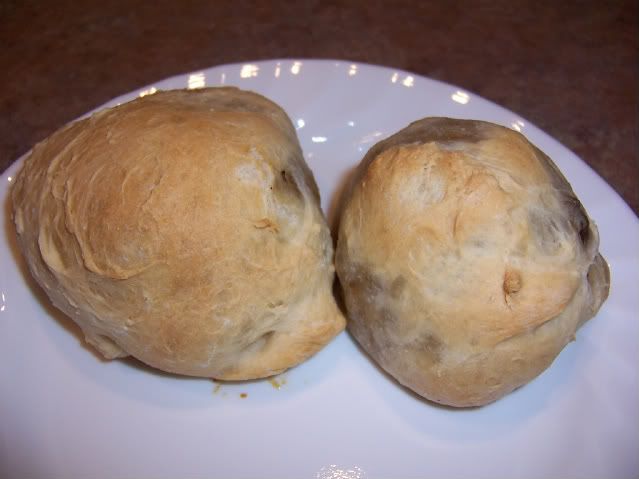 Bierocks
Makes 12 bierocks, 4 dinner servings
1 tbsp olive oil
1/2 small sweet onion, finely diced
2 cloves garlic, crushed
1 lb ground beef
1 teaspoon salt
1 teaspoon black pepper
2 tbsp Worcestershire sauce
10 oz cabbage shredded (~6 cups, one package)
2 12 oz loafs of frozen or refrigerated bread dough
Heat the olive oil in a large skillet over medium heat. Add the onion and sauté until tender and starting to caramelize. Add the garlic and cook for another minute or until fragrant and starting to color. Turn up the heat to medium high and add the ground beef with the salt and pepper. When it is brown, turn the heat down to medium again, and add the Worcestershire sauce. Stir to combine. Add the cabbage and gently stir and cook until the cabbage is wilted completely. Turn off the heat and let the mixture cool.
In the meantime, pre-heat the oven to 350 degrees. Cut each loaf into 6 pieces (12 pieces of dough total). Roll out each piece into a round approximately 6 inches in diameter. Fill with 3 tablespoons of the filling and pinch closed, sealing completely. Place the bierock seam side down on a baking sheet that has been lined with parchment paper. Space the bierocks with at least 1 inch between each one to avoid sticking. Place the baking sheet(s) in the oven and bake bierocks for 25-30 minutes or until golden brown. Serve hot.
Nutritional Information Per Serving, 3 Bierrocks
| | |
| --- | --- |
| Calories | 675 |
| Fat | 24 g |
| Saturated Fat | 8 g |
| Cholesterol | 76 mg |
| Sodium | 1780 mg |
| Carbohydrates | 83 g |
| Fiber | 6 g |
| Protein | 36 g |
| Vitamin A | 3% |
| Vitamin C | 63% |
| Calcium | 8% |
| Iron | 40% |