June 4, 2009 – 6:12 pm
This was a very tasty and slightly unusual dinner. My local grocery stores just recently started carrying buffalo, so I picked up some little eye of round steaks for dinner tonight. This was grass-fed American Bison, raised free range in Montana. I've had buffalo before, but it's been a long time. Shaun had never had it before. He described the flavor as sort of a cross between trout and beef, with the fishiness of the trout replaced with beefiness. A strange but accurate description 🙂 I served this with a Tomato and Cucumber Salad and some crimini mushrooms sautéed in butter and garlic with a sprinkle of kosher salt and black pepper.
If you've noticed the theme of grilling in the past several days, it's because we're having a record heat wave here in the Pacific Northwest. Neither of us have any desire to turn on the oven, or even use the stove for any length of time, so the grill has been our mainstay, not that we mind! :-p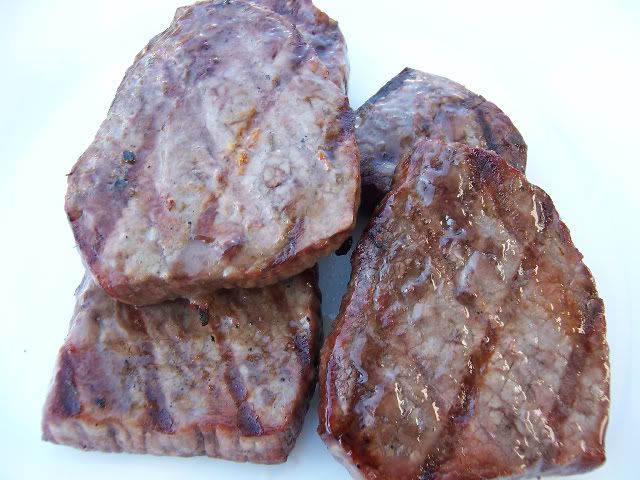 Grilled Buffalo Steaks
Serves 4
1 pound thinly sliced buffalo eye of round
½ tbsp vegetable oil
½ tsp kosher salt
Preheat the grill to high.
Lightly brush the steaks with the vegetable oil and sprinkle both sides with kosher salt.
Turn one side of the grill down to low. Put the steaks on the hot side of the grill and sear for 2 minutes on each side. Move the steaks to the cool side of the grill and cook for another 4 minutes on each side for medium.
Remove steaks from the heat and let rest 10 minutes before serving.