March 28, 2009 – 7:42 pm
I found the original recipe for these awesome cookies on the back of a bag of Andes Creme De Menthe Baking Chips. I only made a couple small modifications: using light brown sugar instead of dark, and putting in a bit more vanilla, as I like it and my measuring method tends to be pouring into a spoon over the mixing bowl until it overflows rather than straight teaspoons 😛 I used my Oxo #40 scoop (1½ tablespoons), and I only got 3 dozen cookies out of the recipe. My version is below.
The chocolate and mint combination with the cookies is just wonderful. Next time I might try making the batter chocolate too by adding some cocoa powder and reducing the flour, but that might be chocolate overload!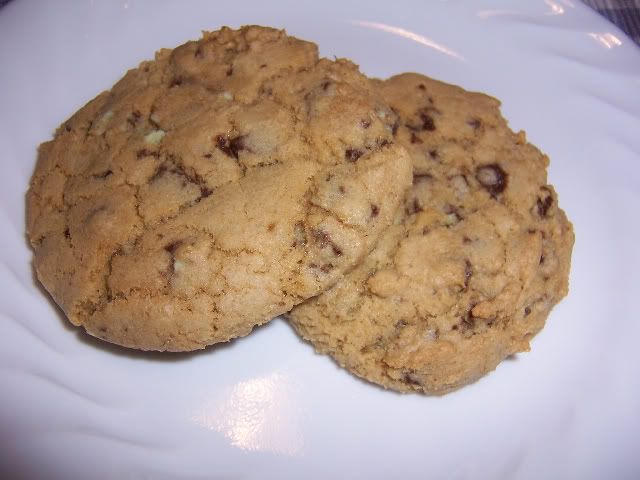 Creme De Menthe Chunk Cookies
Makes 3 dozen cookies
½ cup room temperature salted butter
¾ cup light brown sugar
½ cup white granulated sugar
1 tsp baking soda
1 tsp baking powder
2½ tsp vanilla extract
2 eggs
1 package (10 oz.) Andes® Crème de Menthe Baking Chips
2⅔ cups sifted all-purpose flour
Preheat oven to 350 degrees F.
Cream together the butter and sugars. Stir in the baking soda, baking powder, vanilla and eggs until well combined. Stir in flour until a dough forms. Fold in the Andes chips.
Using a cookie scoop or a tablespoon, drop balls of dough onto a parchment lined cookie sheet about 1½ inches apart. Slightly flatten the dough balls.
Bake for approximately 15 minutes or until the tops are cracking and slightly browned around the edges and the bottoms are uniformly golden brown.
Cool on baking sheet for two minutes before removing to a cooling rack to finish cooling.
Nutritional Information Per Cookie
| | |
| --- | --- |
| Calories | 123 |
| Fat | 5 g |
| Saturated Fat | 4 g |
| Cholesterol | 18 mg |
| Sodium | 76 mg |
| Carbohydrates | 18 g |
| Fiber | 0 g |
| Protein | 2 g |
| Vitamin A | 2% |
| Vitamin C | 0% |
| Calcium | 2% |
| Iron | 2% |