March 17, 2009 – 4:00 pm
This is a traditional Irish quick bread. It's leavened with baking powder and baking soda, so it comes together quickly. It made a lovely side to the corned beef, potatoes, and cabbage. I made mine with half whole wheat flour this year, not out of any desire to be more healthy or anything, but because I was running low on all purpose flour. I did like the depth of flavor that it added, though, and I think I'll continue to do so in the future. I'm firmly in the "no currants" camp of the soda bread debate, but if you like them, go for it 😛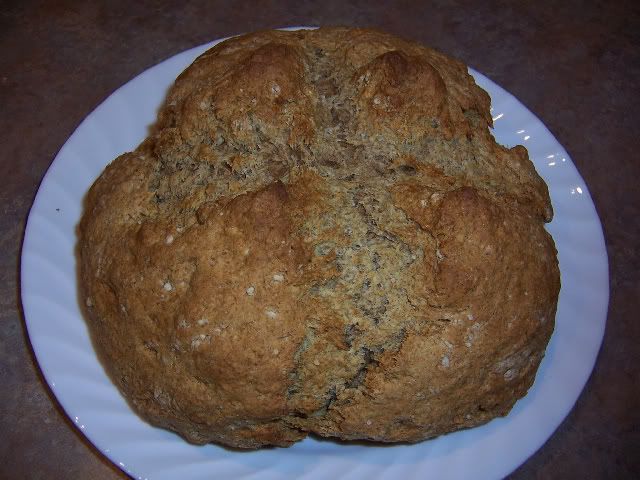 Irish Soda Bread
Makes one 1½ lb loaf
2 cups all-purpose flour
2 cups whole wheat flour
4 tablespoons white sugar
1 teaspoon baking soda
1 tablespoon baking powder
½ teaspoon salt
½ cup unsalted butter, melted
1 cup buttermilk
1 egg
Preheat oven to 375 degrees F.
In a mixing bowl, stir together the flours, sugar, baking soda, baking powder, and salt. Stir in the melted butter, buttermilk, and egg. When combined, turn out onto a floured counter and knead for a minute or two to make a smooth dough.
Form into a ball and place on a parchment paper lined baking sheet. Flatten the ball somewhat. Using a pair of kitchen shears or a sharp knife, cut an X in the top of the loaf.
Bake for 30-45 minutes or until a toothpick comes out clean.