February 9, 2009 – 7:38 pm
Swai en Papillote. Sounds fancy, huh? In reality, nothing could be simpler!
Swai is a type of mild white fish, slightly sweet and almost egg-y tasting, that is farmed mostly in southeast Asia. It is also called Basa or Vietanmese Catfish, though it is not related to the American catfish species.
It was on a great sale this week, so I picked up a couple fillets to throw on the grill in a foil packet. This method is great for delicate fish – it cooks quickly, keeping the fish moist, and really lets the flavor of the fish shine.
I served this with the bruschetta vegetable mix and some couscous cooked in chicken broth with a bit of parsley. A very fast and easy dinner!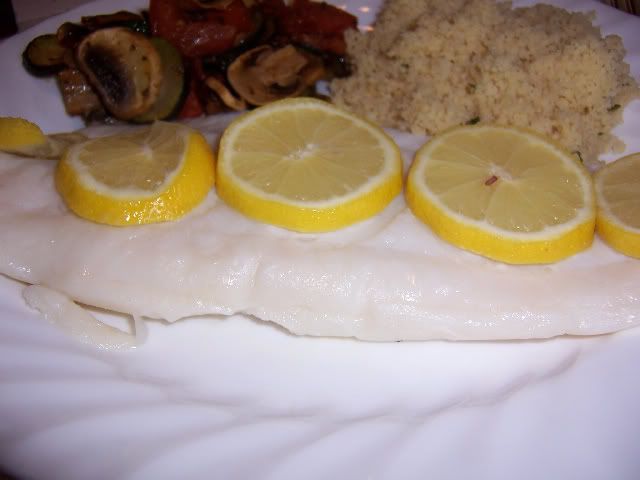 Swai en Papillote
aka Grilled White Fish Packets
Serves 2
1 pound of Swai (or other mild white fish, e.g. tilapia or cod) fillets
1 tsp kosher salt
1 lemon, thinly sliced
Pre-heat the grill to medium high heat. Spray a large sheet of aluminum foil with non-stick spray. Set the fillets down side by side so they are touching but not overlapping. Sprinkle with kosher salt and layer the lemons on top. Fold the aluminum foil over the top to form a water-tight packet, leaving the fish fillets as flat as possible. Set the packet on the grill and close the cover. Cook for 5-7 minutes or until the fish is opaque and easily flakes.