February 2, 2009 – 6:42 pm
Guacamole is another one of those intensely personal things. This is the way I make mine: chunky, garlicky, and fresh. Tweak it to suit your own tastes! We had this as a condiment with some beef and bean burritos.
A couple notes on ingredients:
A ripe Hass avocado (aka California avocado) will have a dark skin and will give slightly when pressed near the stem. If it feels mushy when you pick it up, it's too far gone, and if it doesn't give at all, you'll need to let it ripen for a day or two on your counter before using it.
I buy limes in a big bag at Costco, wash them, cut off the peels (zesting the good looking ones first), then toss them all in a blender and liquefy them. I then press the resultant puree through a sieve and pour the juice into ice cube trays. I freeze them up, dump them into a freezer bag, and get perfect little blocks of fresh lime juice to use in recipes or drinks.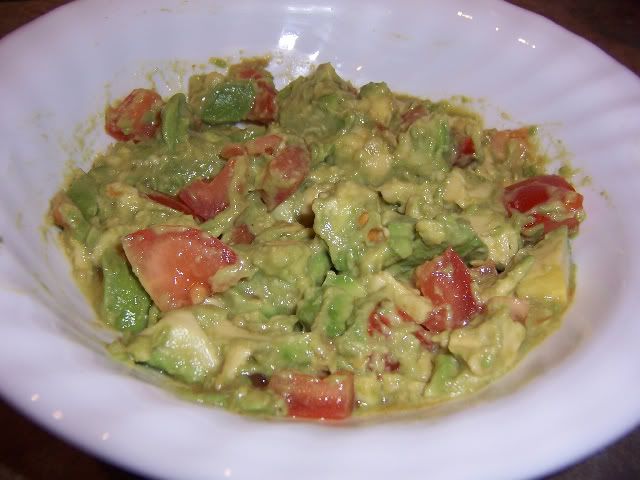 Guacamole
Makes about 1 cup, enough for 4 burritos
1 large ripe Hass avocado
1 tbsp fresh lime or lemon juice
1 small Roma tomato or other variety – about 50 g in weight
½ tsp ground cumin
1 clove garlic
dash cayenne pepper
Halve the avocado lengthwise and remove the pit. Using a knife, carefully slice down through the flesh to the skin of the avocado making a grid pattern. Scoop out the avocado blocks with a spoon into a bowl. Sprinkle immediately with lime juice to prevent oxidation. Cut the tomato into small cubes and add to the bowl with the cumin and cayenne. Press a clove of garlic into the bowl too. Using quick chopping motions with a spoon, mix the ingredients together. You want some of the avocado to be mushed up, but there should still be discernible chunks.
Nutritional Information Per ¼ Cup
| | |
| --- | --- |
| Calories | 82 |
| Fat | 8 g |
| Saturated Fat | 1 g |
| Cholesterol | 0 mg |
| Sodium | 7 mg |
| Carbohydrates | 4 g |
| Fiber | 2 g |
| Protein | 1 g |
| Vitamin A | 7% |
| Vitamin C | 11% |
| Calcium | 1% |
| Iron | 4% |