January 27, 2009 – 6:39 pm
I often make this in the summer, grilling the chicken (as seen here), but it sounded really good for some reason this week, so I made it with a few modifications for the winter weather.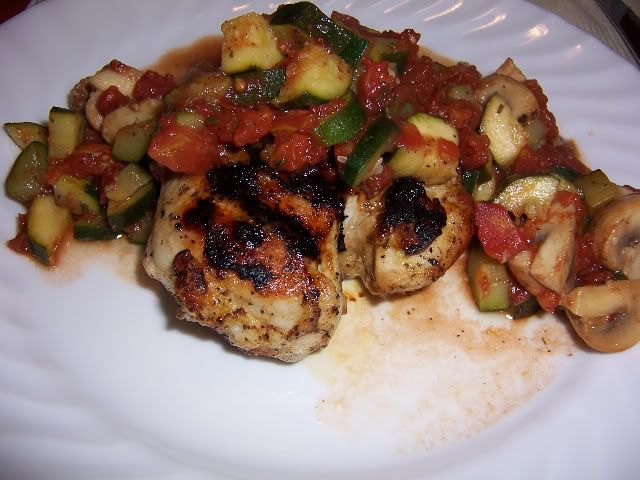 Chicken Bruschetta
Serves 2
1 tsp garlic powder
¾ tsp kosher salt, divided
¾ tsp black pepper, divided
2 boneless skinless chicken breasts (about 1.25 lb)
1 tbsp olive oil
10 oz button mushrooms
3 small zucchini (about 15 oz)
4 cloves garlic, minced
1 can (14.5 oz) petite diced tomatoes
1 tsp dried basil
4 tsp balsamic vinegar
Preheat the oven to 425 degrees. Preheat a grill pan over medium high heat. Mix together the garlic powder, ¼ tsp of the kosher salt, and ¼ tsp of the black pepper. Sprinkle the chicken breasts with the mixture and put on the grill pan. Cook for 15 minutes, then flip and move the pan to the oven to cook for 15 more minutes.
While the chicken is cooking, cut the zucchini into fourths lengthwise, then slice crosswise to end up with thin wedges. Set them aside in a bowl. Mince the garlic cloves with the remaining ½ tsp of kosher salt (it will help keep the garlic from sticking to your knife). Cut the mushrooms into large chunks, quarters or sixths depending on how big your mushrooms are.
After putting the chicken in the oven, heat the olive oil in a skillet. Add the garlic and mushrooms and sauté for 5 minutes or until golden and just starting to give off a bit of liquid. Add the zucchini and stir to combine. Sauté for another 5 minutes or until the zucchini and mushrooms are tender. Add the tomatoes, remaining ¼ tsp of black pepper, the basil, and the vinegar, and stir to combine. Let simmer for 5 minutes to meld the flavors. Turn off the heat.
Remove the chicken from the oven and let rest for five minutes. Place chicken on plates and top with the vegetable mix.
Nutritional Information Per Serving
| | |
| --- | --- |
| Calories | 460 |
| Fat | 14 g |
| Saturated Fat | 3 g |
| Cholesterol | 152 mg |
| Sodium | 895 mg |
| Carbohydrates | 22 g |
| Fiber | 6 g |
| Protein | 63 g |
| Vitamin A | 36% |
| Vitamin C | 91% |
| Calcium | 8% |
| Iron | 23% |