December 9, 2008 – 7:23 pm
This coleslaw has no mayo, which makes it nicely suited for picnics, potlucks, and other places where you won't necessarily have refrigeration. I also prefer the vinaigrette over a creamy sauce in any case. Today I cheated a bit and used a 1 pound bag of coleslaw mix (green and red cabbage and carrot, pre-shredded) instead of chopping my own cabbage and carrot.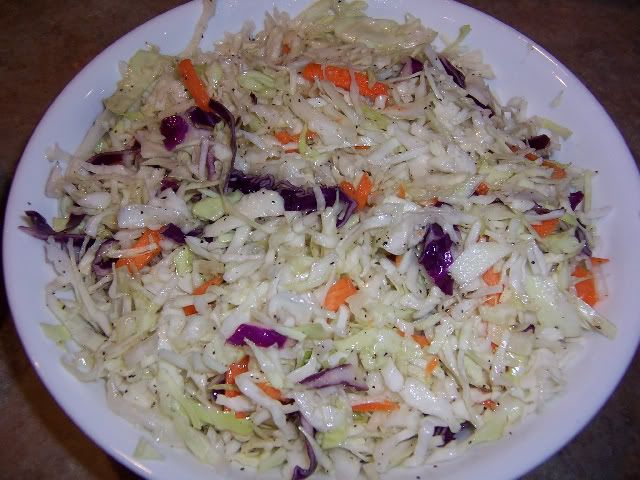 Oil and Vinegar Coleslaw
Makes 4 servings
¼ cup white wine vinegar
2 tbsp canola oil
2 tbsp sugar
1 tsp kosher salt
1 tsp black pepper
1 lb green cabbage, about half of a large head (or use a mix of green and purple cabbage for more color)
1 large carrot (about 5 oz)
Shred the cabbage and carrot and place them in a large serving bowl. Whisk together the vinegar, oil, sugar, salt, and pepper in a small bowl, then pour over the cabbage and carrot and toss to coat. Let sit for 20 minutes for the flavors to mingle, then serve.
Nutritional Information Per Serving
| | |
| --- | --- |
| Calories | 130 |
| Fat | 7 g |
| Saturated Fat | 1 g |
| Cholesterol | 0 mg |
| Sodium | 615 mg |
| Carbohydrates | 17 g |
| Fiber | 4 g |
| Protein | 2 g |
| Vitamin A | 202% |
| Vitamin C | 67% |
| Calcium | 7% |
| Iron | 6% |