October 1, 2017 – 5:19 pm
For my birthday this year, we made a version of Peabody's excellent Fireball Glazed Apple Cake. It turned out wonderfully! Using multiple types of apples, applesauce, and apple whiskey made for a deep apple flavor that using just one type of apple just can't quite touch.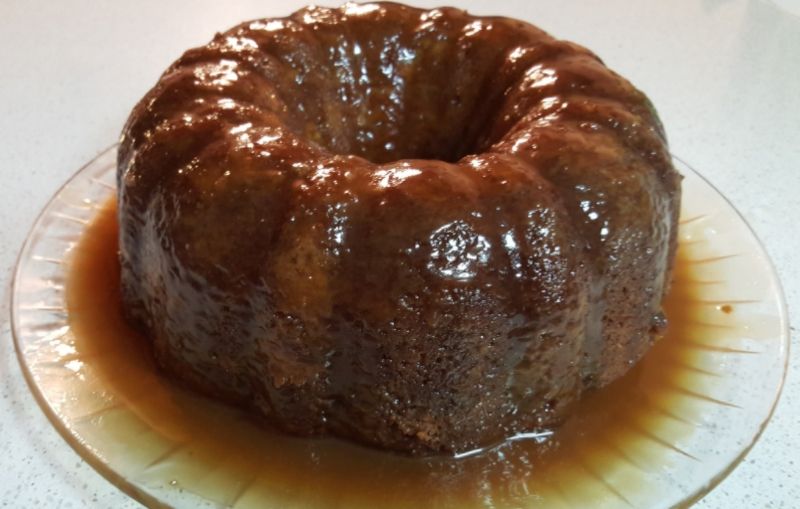 Whiskey Glazed Apple Cake
For the cake:
0.75 cups canola oil
0.75 cups applesauce
2 cups granulated sugar
3 large eggs
1.5 tsp. vanilla extract
3 cups all-purpose flour
1 tsp salt
1 tsp baking soda
0.5 tsp freshly ground nutmeg
1 tsp ground cinnamon
1 honeycrisp apple, 1 gala apple, and 1 granny smith apple, each peeled and shredded
For the whiskey glaze:
4 oz unsalted butter
1 cup brown sugar, firmly packed
0.5 tsp vanilla extract
0.25 cup apple whiskey (I used Leopold's)
0.25 cup heavy whipping cream
For the cake:
Preheat oven to 325 degrees F.
Cream the oil, applesauce, sugar and eggs with an electric mixer until the mixture becomes light yellow and fluffy. Add in vanilla extract and beat for another 30 seconds to combine. Add the flour, baking soda, salt, cinnamon, and nutmeg. With the mixer on low, stir until the ingredients just come together to form a batter. Add the shredded apples and mix until all the ingredients are fully incorporated.
Pour batter into a bundt pan. Bake at 325 degrees for 60-70 minutes, or until the cake turns a dark golden brown and a wooden skewer inserted comes out clean.
Let the cake cool completely on a wire rack. Turn the cake out onto a plate. When the cake is cool, proceed with the glaze.
For the glaze:
In a saucepan over medium heat, melt the butter. Add the brown sugar, vanilla extract, heavy cream, and whiskey, and increase the heat to medium high. Bring the mixture to a rolling boil, then turn the heat off.
Final assembly:
Using a wooden skewer, poke holes in the cake for the glaze to sink in. Pour the glaze slowly and evenly over the cake.
Let the cake cool again completely, spooning extra glaze over the cake once or twice. When the glaze cools completely, it will form a delicious crust.