March 4, 2013 – 6:56 pm
I had other plans for my ground pork, but my oven disagreed and died on me. Drat. The baked dumplings will have to wait for another day. The stovetop still works, though, so I went for a quick stir fry. This turned out quite well, especially for me punting. Since I was just making it up as I went along, my measurements below are my best guesses for what I did.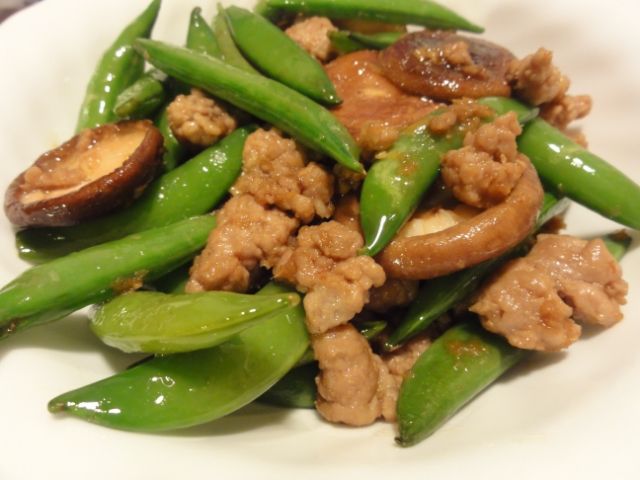 Pork, Shiitake, and Snap Pea Stir Fry
Serves 2, or 4 if served with rice
8 oz ground pork
8 oz fresh shiitake mushrooms, stems removed
8 oz snap peas
1 tbsp canola oil, divided
1 tsp sesame oil
1 tbsp grated fresh ginger
4 cloves garlic, pressed
3 tbsp soy sauce
1 tbsp black vinegar
Spray a large skillet with non-stick spray and heat over medium high heat. Add the pork and brown it well, breaking it up into small chunks. Remove the pork to a bowl, keeping as much of the pork fat as possible in the skillet.
Add a little canola oil if necessary to coat the bottom of the skillet. Add the mushrooms, cap side down, and let brown for 30 seconds to one minute, then flip and brown the gill side for 20-30 seconds. Remove the mushrooms to the bowl with the pork.
Add 1-2 tsp of canola oil to coat the bottom of the skillet again. Add the peas and let brown for 45 seconds to 1 minute before tossing and cooking for another minute to brown on all sides. Remove the peas to the bowl, leaving any oil in the pan.
Add the sesame oil to the pan, then add the garlic and ginger and let cook for 30 seconds, or until fragrant and just starting to brown. Add the soy sauce and black vinegar, and deglaze the pan.
Return the pork and veggies to the skillet and stir to combine, adding a tablespoon or two of water if necessary to help coat everything evenly. When the sauce has reduced to a coating on the meat and veggies, in 1-2 minutes, turn the heat off and serve the stir fry warm.