December 31, 2011 – 1:49 pm
We love Chicago-style pizza, and there's just none to be had in Seattle. I found a recipe for sourdough pizza crust on the King Arthur Flour website, and gave it a go in a cast iron skillet. It turned out really well! We went cheese-less, but if you want some, sprinkle it on before spooning the sauce over the crust. I was going to add some mushrooms too, but they didn't look so great, so just meat this time around.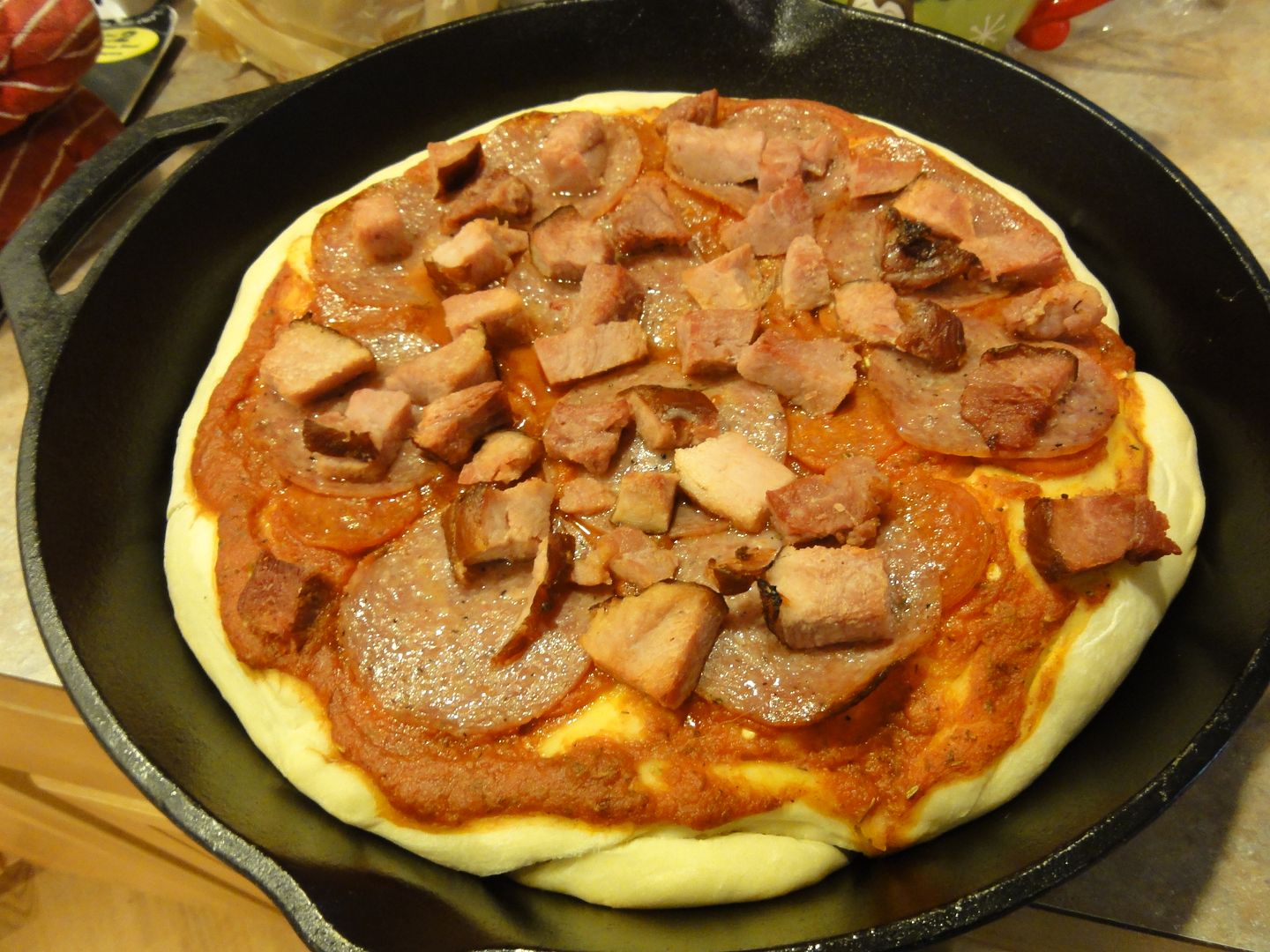 Deep Dish Sourdough Pizza
Serves 8
For the dough:
1 cup unfed sourdough starter
1/2 cup hot tap water
2 1/2 cups unbleached all-purpose flour
1 teaspoon salt
1/2 teaspoon instant yeast
For the sauce:
1 8-oz can tomato sauce (I like Muir Glen)
1 tsp Italian seasoning (mine is a mix of marjoram, thyme, rosemary, savory, sage, oregano, and basil)
1/8 tsp onion powder
1/8 tsp garlic powder
1/8 tsp red pepper flakes
For the toppings:
2 oz sliced salami
2 oz cubed ham
2 oz sliced pepperoni
Stir all of the dough ingredients to combine in the bowl of a stand mixer, then knead on medium speed until a smooth, slightly sticky ball of dough is formed – about 7 minutes. Place the dough in a lightly oiled container, rolling the dough to coat in oil, and cover with a damp paper towel. Let rise in a warm place until doubled in volume, about 2 hours.
Rub a 12 inch diameter deep cast iron skillet with olive oil. Place the dough in the skillet and gently press it out to fill the skillet. Cover the dough with a damp paper towel and let the dough rest for 15 minutes. Press the dough again to the edges and re-cover. Let the dough rest for another 15 minutes. Press the dough out to the edges and slightly up the sides.
Cover the dough again and let it rise for a final 20 minutes. While this final rise is occurring, preheat the oven to 450 degrees F.
Place the skillet in the oven and bake the pizza dough for 8 minutes.
While the dough is pre-baking, mix together all the sauce ingredients in a small bowl.
Remove the skillet from the oven and spread the sauce over the dough, leaving a 1/4 inch border around the edge. Evenly distribute the toppings.
Return the skillet to the oven and bake until the dough is cooked through and just starting to turn golden brown around the edges (should be fairly golden brown on the bottom), the sauce is bubbling, and the toppings are hot.
Remove the skillet from the oven and let the pizza cool for 5 minutes before slicing and serving.