October 23, 2011 – 3:48 pm
This recipe is originally from King Arthur Flour. I've modified it a bit based on what I have, so my version is below. This was a really tasty, sweet but not too sweet bread that was perfect for autumn. I got to use my sourdough starter too 😀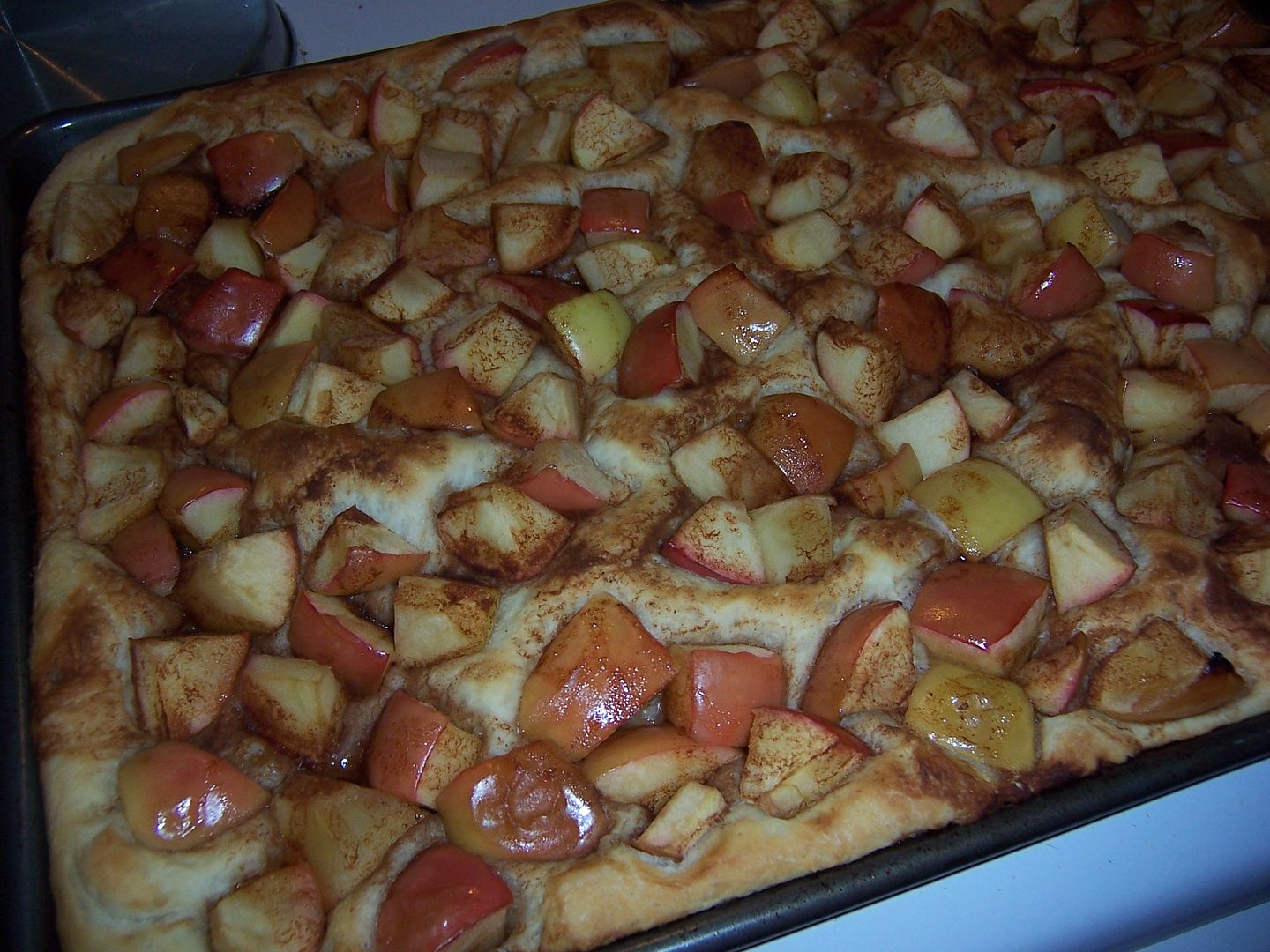 Cinnamon Apple Flatbread
Makes 1 large flatbread, about 18 servings
For the dough:
1 cup unfed sourdough starter
3/4 cup tepid water
2 tsp instant yeast
3 cups unbleached all purpose flour
1 1/2 tsp table salt
2 tbsp dry buttermilk
3 tbsp olive oil
For the filling:
6 medium or 4 large firm apples, about 2 1/2 lbs (I used Jazz apples)
1/4 cup pure maple syrup
1 cup fresh apple cider
For the topping:
1/4 cup granulated sugar
1 tbsp ground cinnamon
1/4 cup syrup reserved from cooking the apples
Mix all of the dough ingredients and knead to form a soft, smooth dough. Place the dough in a lightly greased bowl and cover it with a damp paper towel. Let the dough rise in a warm place for 1 hour. Gently punch the dough down to deflate it and let the dough rise again for a second hour. It should approximately double in volume.
While the dough is rising for the second time, cut each apple into 8 wedges and remove the core. Cut each wedge into 3 chunks. You should end up with about 7 to 7 1/2 cups of apple pieces. Place the apples in a large microwaveable dish and set aside.
Boil the 1 cup of apple cider over medium high heat until it is reduced to about 1/4 cup of liquid. Mix the reduced cider with the maple syrup and drizzle the syrup over the apple pieces.
Microwave the apple pieces until they are soft but still holding their shape, about 9 minutes, stirring halfway through. Set the apple pieces aside to cool while the dough finishes rising.
When the dough is finished rising, lightly grease an 18″ x 13″ rimmed baking sheet with olive oil. Gently stretch and pat the dough out into a rectangle that just fills the sheet. It will start to shrink back almost immediately. Cover the dough with a damp paper towel and let it rest for 10 minutes. Re-stretch and pat the dough again to fill the sheet, letting the dough rest for another 10 minutes if necessary.
Arrange the apple chunks evenly over the dough, keeping all of the excess syrup and accumulated juices in the bowl.
Mix 1/4 cup of the apple cooking syrup with the sugar and cinnamon to form a topping. Drizzle it evenly over the apples and bread.
Cover the flatbread and let it rise for 1 hour, until the dough is puffed up nicely. When there are about 15 minutes left in the rise time, start preheating the oven to 425 degrees F.
Bake the bread at 425 degrees F for 25-30 minutes, or until the crust is golden brown around the edges and well set in the middle. Remove from the oven, slide out onto a rack to cool for a few minutes, and serve warm.