September 16, 2011 – 6:44 pm
Yesterday evening I went to a fun cooking class in Lynnwood hosted by Culinary Events Northwest and Pranee Khrusanit Halvorsen of ilovethaicooking.com. Pranee led a tour of our local H Mart, with an eye to the ingredients we'd be using in dishes later in the evening.
After getting a lot of great info on thai produce, grains, and staples (including Pranee's favorite brands for many of the condiments), and getting a couple minutes to make some purchase of our own, we reconvened at the Culinary Events Northwest studio down the street (inside Albert Lee Appliances, if you're local and looking for them).
The menu for the evening was Yam Neua (beef mint salad with toasted rice powder), Gai Phad Med Mamueng (stir fried chicken with onion, pepper, and cashews), Gaeng Kari Gai (yellow curry with chicken, potato, and onion), Por Pia Sod (rice paper rolls filled with prawns and fresh vegetables and served with sweet chili dipping sauce), and Kuey Buod Chee (fragrant banana in coconut cream). Being centered on the freshest ingredients available, we ended up with peanuts instead of cashews, Hawaiian purple sweet potatoes for the curry, and fried tofu instead of prawns in the summer rolls. The class of 20 was divided into groups for the prep work and each of us got a chance to do some cooking as well, whether working with the stir fry, braising chicken for the curry, grilling beef for the salad, or simmering the bananas.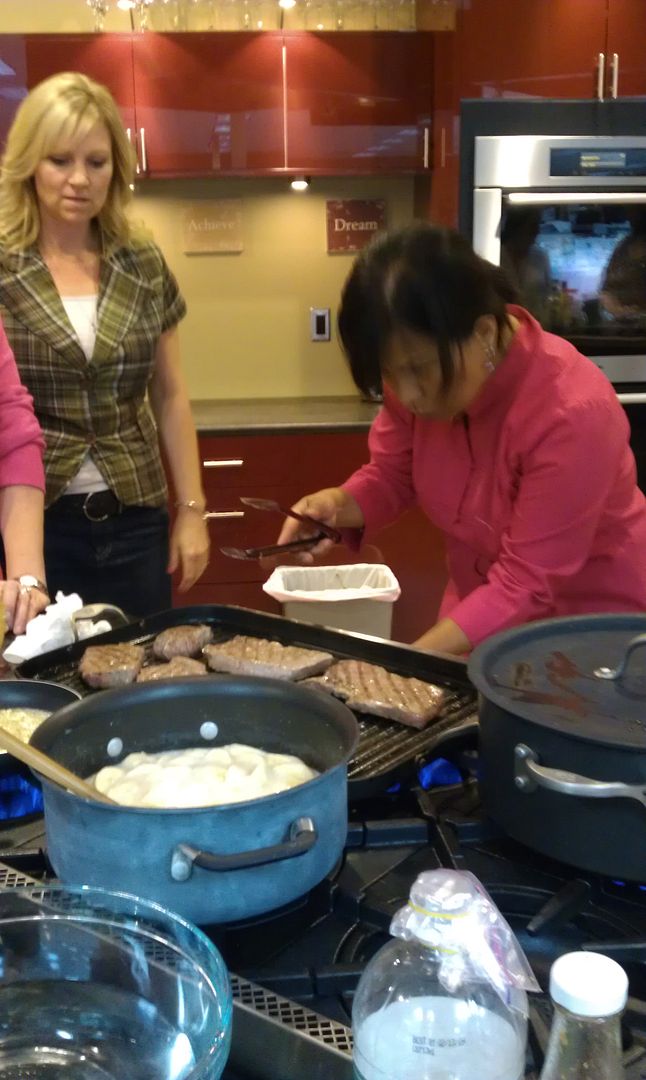 After all the washing, chopping, mixing, tossing, simmering, and frying, we were ready to eat! We all got to roll our own summer roll and go through and get generous samples of each dish. Much to my surprise, I enjoyed all of them – too much onion, so I took some excedrin migraine when I got home, but I even liked the yellow curry. I still don't like red or green curries, though 😛 A dry reisling was also provided as a wine match, a 2010 Chateau Ste Michelle, and I tried a small sip. Still not a wine fan, but it was pretty tolerable as far as they go, and I could definitely see how it went well with the sweet/spicy/sour of Thai cusine. Other recommendations were a Gewürztraminer or a Pinot Gris, with fruity and floral notes but still a little on the dry side. I wasn't going to have any more than a sip in any case though, given that I drove myself to the class!
All in all, a fun class, and I'll definitely keep an eye out for more classes that catch my eye!