September 11, 2011 – 6:20 pm
I ordered some fresh sourdough starter from King Arthur Flour and it came yesterday. I immediately started with the initial feedings, and now have a happy bubbly starter to play with. 🙂 My first attempt follows their basic rustic sourdough loaf, just dividing the dough into 24 even little rolls and placing them into two parchment lined 9 inch round cake pans before the second rise. That way I had built in portion control. I also started to check on them at 15 minutes, just in case, but they still took 30 minutes to cook.
I do highly encourage you to try this out! I had a lot of fun, and these were absolutely great. 🙂 I can't wait to try some of the other recipes they have, like waffles, pretzels, or cinnamon apple flatbread.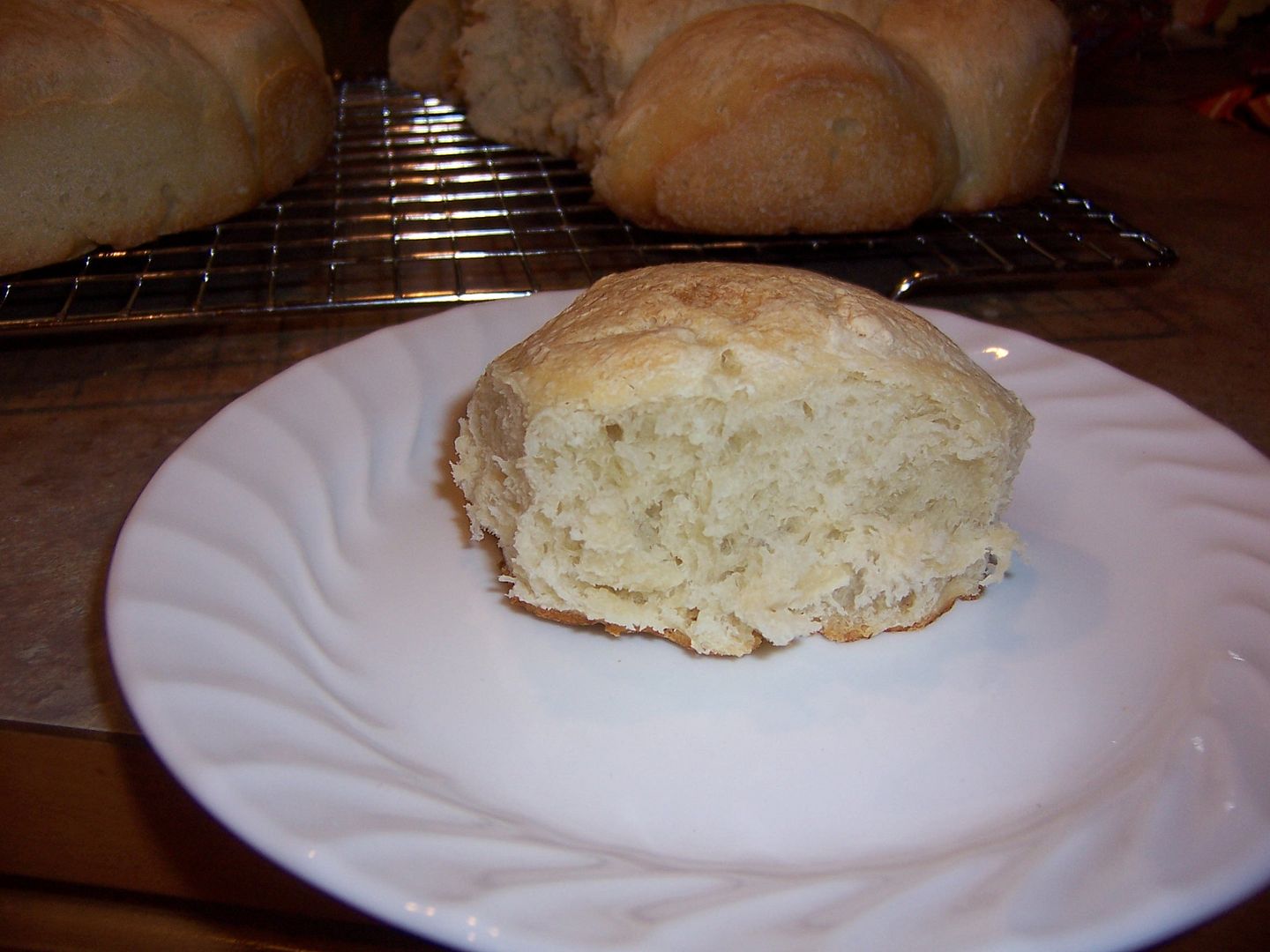 Rustic Sourdough Rolls
Makes 24 Rolls
1 cup fed sourdough starter
1 1/2 cups lukewarm water
2 tsp instant yeast
1 tbsp sugar
2 1/2 tsp salt
5 cups unbleached all purpose flour
Combine all the ingredients in the mixing bowl of a stand mixer. Knead the ingredients with the dough hook until a smooth ball of dough is formed – about 5 minutes.
Cover the dough with a damp paper towel and let it rise in a warm place until it has doubled in size, about 90 minutes.
Line two 9 inch diameter cake pans with parchment paper. Gently punch the dough down. Divide the dough into 24 even pieces (mine weighed 52 grams each, if you happen to have a kitchen scale). Gently roll each piece between your fingers to form a smooth sphere and place the rolls in the cake pans, evenly spaced.
Cover the rolls with damp paper towels and let them rise again until they are about doubled again – about 1 hour.
20 minutes before the rolls are finished rising, start preheating the oven to 425 degrees F.
Uncover the rolls and spray them with lukewarm water. Place the rolls in the oven and spray the oven walls with water as well. Open the oven after 5 and after 10 minutes of baking and spray the rolls and oven walls with water again. Bake the rolls for a total of 20-30 minutes at 425 degrees F, until the tops are a nice golden brown.
Remove the rolls to a cooling rack and let them cool for a few minutes before breaking them apart and serving.