September 28, 2011 – 5:32 pm
A light late summer / early fall meatless meal for dinner tonight. If you'd like to make this vegetarian, just use veggie broth when making the polenta. This was inspired by a couple recipes: one from Fine Cooking, and another from Better Homes and Gardens. If the fresh corn doesn't look so hot, thaw out some frozen kernels. Similarly, a large can of diced tomatoes would work well in the winter.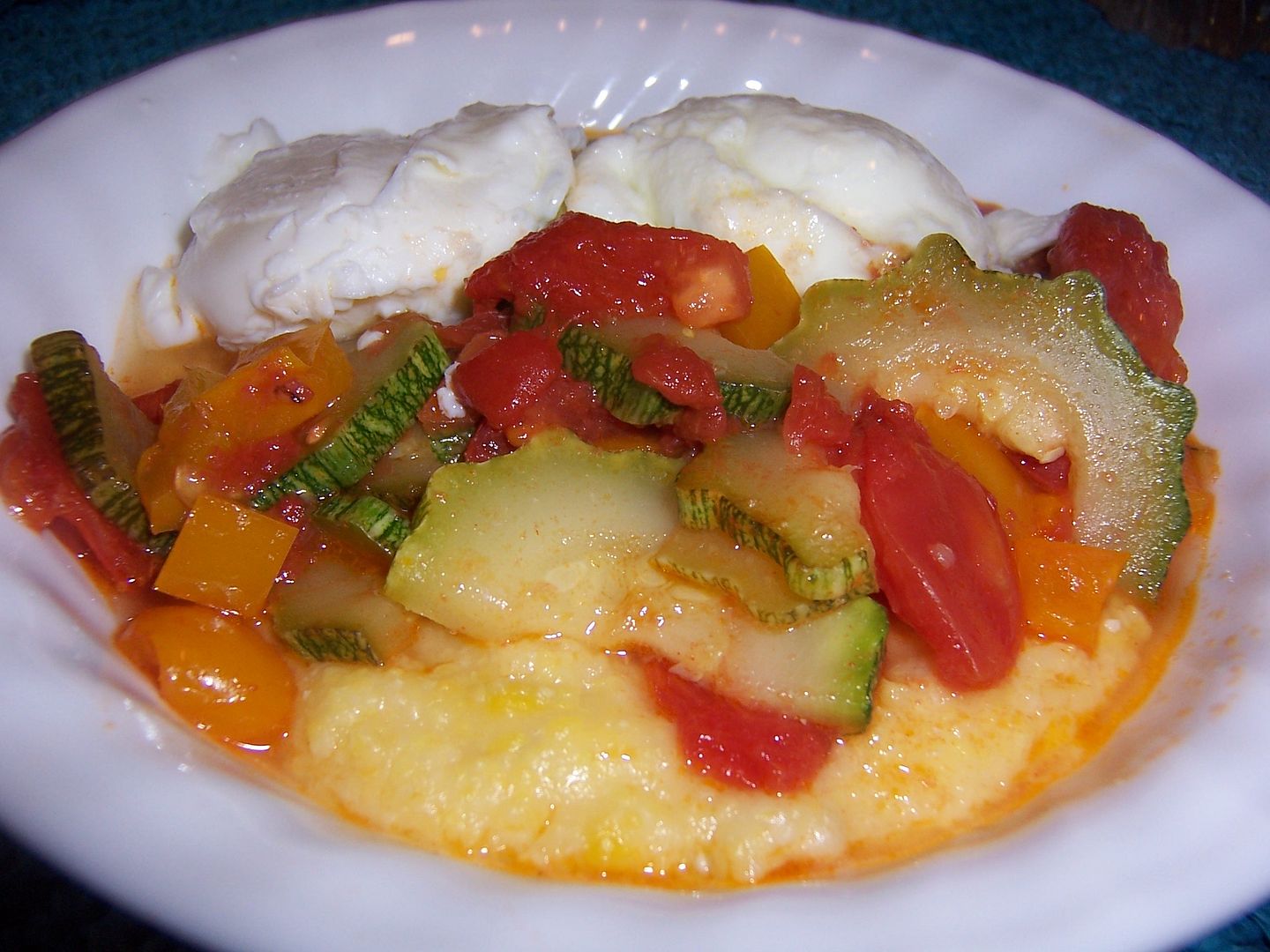 Fresh Corn Polenta with Poached Eggs and Veggie Saute
Serves 2
For the polenta:
2 cups low sodium chicken broth
1/2 tsp kosher salt
1/2 cup stone ground cornmeal
3/4 cup corn kernels (from 1 medium ear of corn)
1/2 tbsp butter
1/4 cup freshly grated Parmesan cheese
For the veggie saute:
2 medium zucchini, cut in half lengthwise then sliced into half moons
1 small yellow or orange bell pepper, julienned
1 large tomato, diced
1/2 tbsp olive oil
kosher salt
For the poached eggs:
4 fresh large eggs
1 tbsp white distilled vinegar
1/2 tbsp kosher salt
Bring the chicken broth to a boil in a medium saucepan over medium high heat. Season the broth with the salt. Whisk in the cornmeal and continue to whisk for 1-2 minutes, or until the polenta begins to thicken. Reduce the heat to medium low and continue to cook, uncovered, stirring frequently. After about 15-20 minutes of cooking, stir in the corn kernels. Continue to cook for another 10 minutes, or until the polenta is tender and thick enough to hold its shape in a mound on a plate. At this stage, remove the polenta from the heat and stir in the butter and Parmesan. Set aside and let cool for a few minutes.
While the polenta is cooking, heat olive oil in a large skillet over medium high heat. Add the zucchini and bell pepper pieces and season with salt. Saute the veggies until tender, about 15 minutes. Add the diced tomato and toss to combine. Turn the heat off and cover to keep warm.
In a large saucepan, add 3 quarts of water, the vinegar, and the salt, and bring it a boil. Crack each egg into a separate small bowl. When the water comes to a boil, reduce the heat to medium low to maintain a bubbling simmer. With a spoon created a small vortex by rapidly stirring in one quarter of the pan. Pour an egg into the center of the vortex. Repeat with the remaining 3 eggs, with one egg in each quarter of the pan. Poach the egg to your desired doneness – 2 minutes for runny yolks, 4 minutes for firmer yolks, 6 minutes for set yolks. Remove eggs with a slotted spoon to a paper towel lined plate and trim any scraggly ends of the whites.
Divide the polenta between two large bowls. Top each with the half the veggie saute and 2 poached eggs.