March 15, 2011 – 7:23 pm
This month's Household 6 cooking challenge was a concept MRE, aka Meal Ready to Eat. These are shelf stable, calorie dense, nutritious meals that are used in the field by our men and women in uniform. They are not, however, known for being particularly tasty. Often the tiny bottles of Tabasco are the most coveted part 😛
My concept is a take-off on the beef stew entrée with an eye towards Saint Patrick's Day later this week. This stew is rich and flavorful, healthy, and a well balanced meal in a bowl. The garnish of fresh thyme would sadly be lacking in an MRE version 😉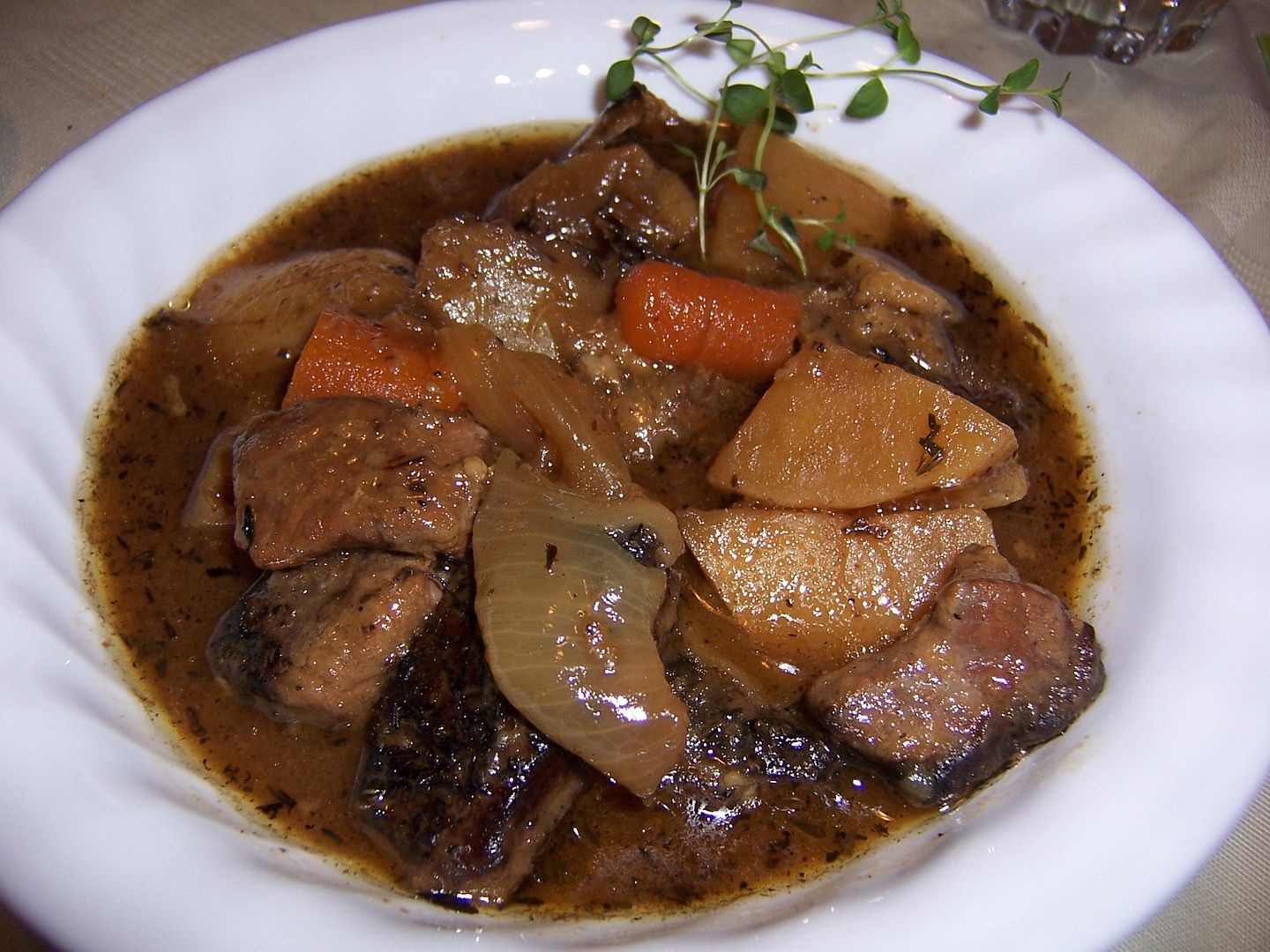 Crockpot Lamb Stew
Serves 4
1 lb lamb stew meat, in 1 inch chunks
1/8 cup all purpose flour
1/4 tsp salt
1/4 tsp black pepper
2 tbsp canola oil
1 medium onion, cut into quarters then separated into the layers
2 cloves garlic, pressed
1 small bottle dry white wine (187 ml)
1 large white potato, about 10 oz, cut into large bite sized chunks
8 oz carrots, peeled and cut into large bite sized chunks
2 cups beef broth
1 tsp dried thyme
1 bay leaf
Season the flour with the salt and pepper in a large zip top bag. Toss the lamb to coat well. Heat the oil in a skillet over medium high heat. Shake off any excess flour from the lamb pieces and add them to the skillet in a single layer. Brown the lamb on all sides and then remove it to a bowl.
Add the onion to the skillet and cook until starting to turn translucent and browned. Remove the onion to the bowl with the lamb. Add the garlic and cook for 20-30 seconds or until golden and fragrant. Deglaze the skillet with the wine and reduce the liquid by half. Pour the wine and garlic mixture into the bowl over the onion and lamb.
If there is any flour remaining in the zip top bag, pour a little cold water in and create a slurry. Pour that into the bowl as well, then add the carrots and potatoes. Add the beef broth and stir to combine.
Cover the bowl and place in the refrigerator overnight. In the morning, dump the contents of the bowl into a slow cooker, add the thyme and bay leaf, and cook on low for 8-10 hours. Remove bay leaf and stir the stew before serving warm.