May 2, 2010 – 5:21 pm
This is a tasty way to roast a chicken. You can customize the spice rub to whatever makes you happy that day. Today I did salt, pepper, thyme, cayenne, and garlic. Neither Shaun nor I are much fans of the flavor of beer to drink, but the flavor it lends here is nice and subtle and keeps the chicken very juicy. I served this with some baked potatoes and ripe tomatoes.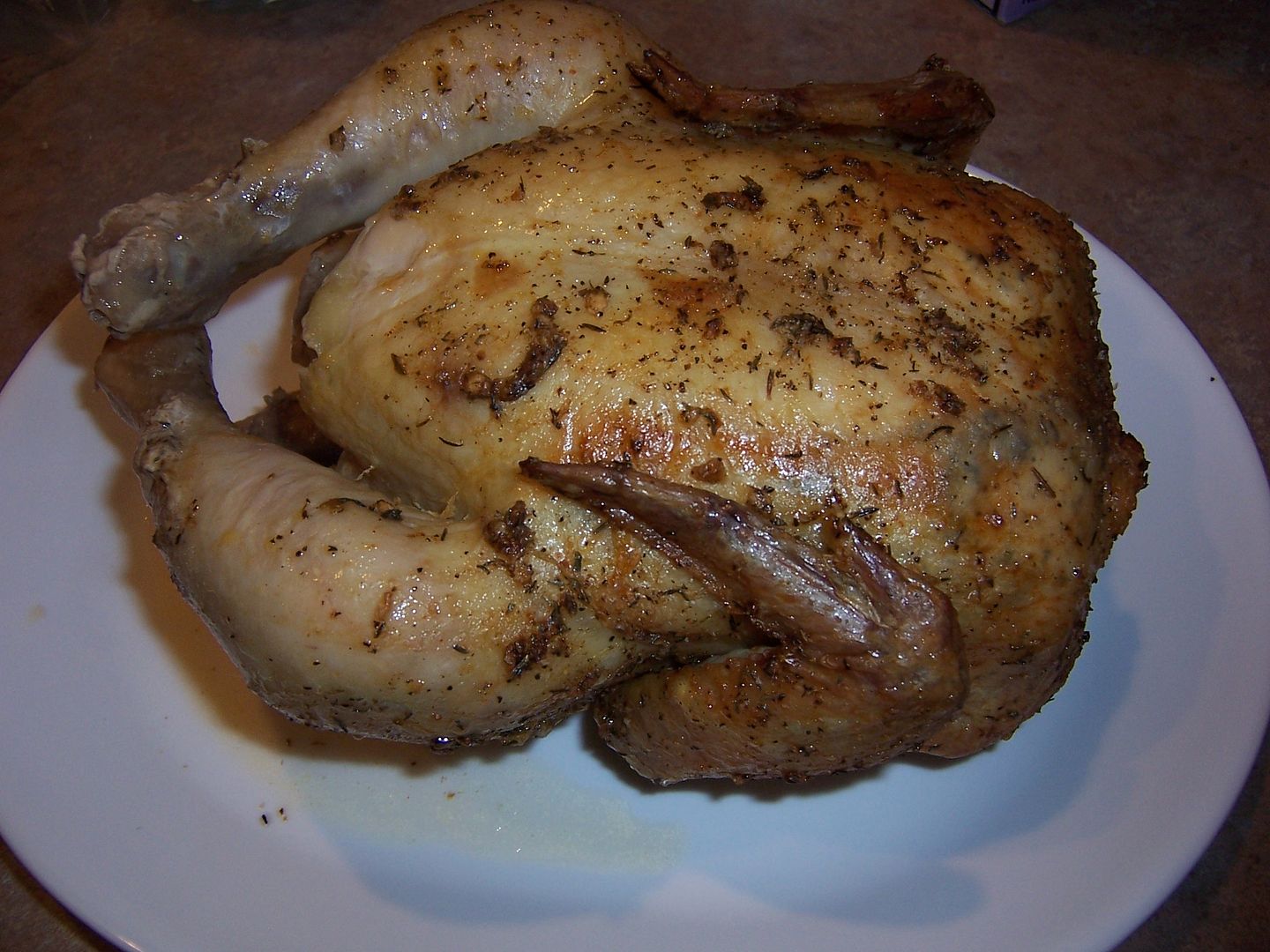 Beer Roasted Chicken
Makes 1 whole chicken, about 4 generous servings
For the rub:
1½ tsp kosher salt
1 tsp ground black pepper
1/4 tsp cayenne pepper
1`tsp dried thyme leaves
3 cloves garlic, pressed
1 tbsp canola oil
For the rest:
1 whole chicken, 4-5 pounds
1 bottle dark or amber beer (I used the locally brewed Scuttlebutt Amber Ale)
2 cloves of garlic, crushed
Preheat the oven to 350 degrees.
Mix all of the spices and herbs with the canola oil to make a rub.
Rinse the chicken, removing and discarding the neck and any giblets, and pat dry.
Rub the chicken, all over with the spice mixture, getting some under the breast skin as well. Pour most of the beer into the chicken roaster stand. If you like beer, drink the rest, otherwise just discard. Add the crushed garlic to the beer. Place the chicken, legs pointing down, over the roaster so that it's standing vertically, supported by the center of the roaster.
Bake for 1½ -2 hours or until the internal temperature taken in the center of a thigh is 175 degrees F. Remove from the oven, use tongs to take the chicken off the roaster and onto a platter, and let rest for 10 minutes before carving and serving.