January 31, 2010 – 6:18 pm
This is an easy and tasty meal that uses up leftover steamed rice. Next time I'm going to add a little fresh garlic just before adding the rice to the wok. This was very good but could use just a little more flavor to push it to excellent.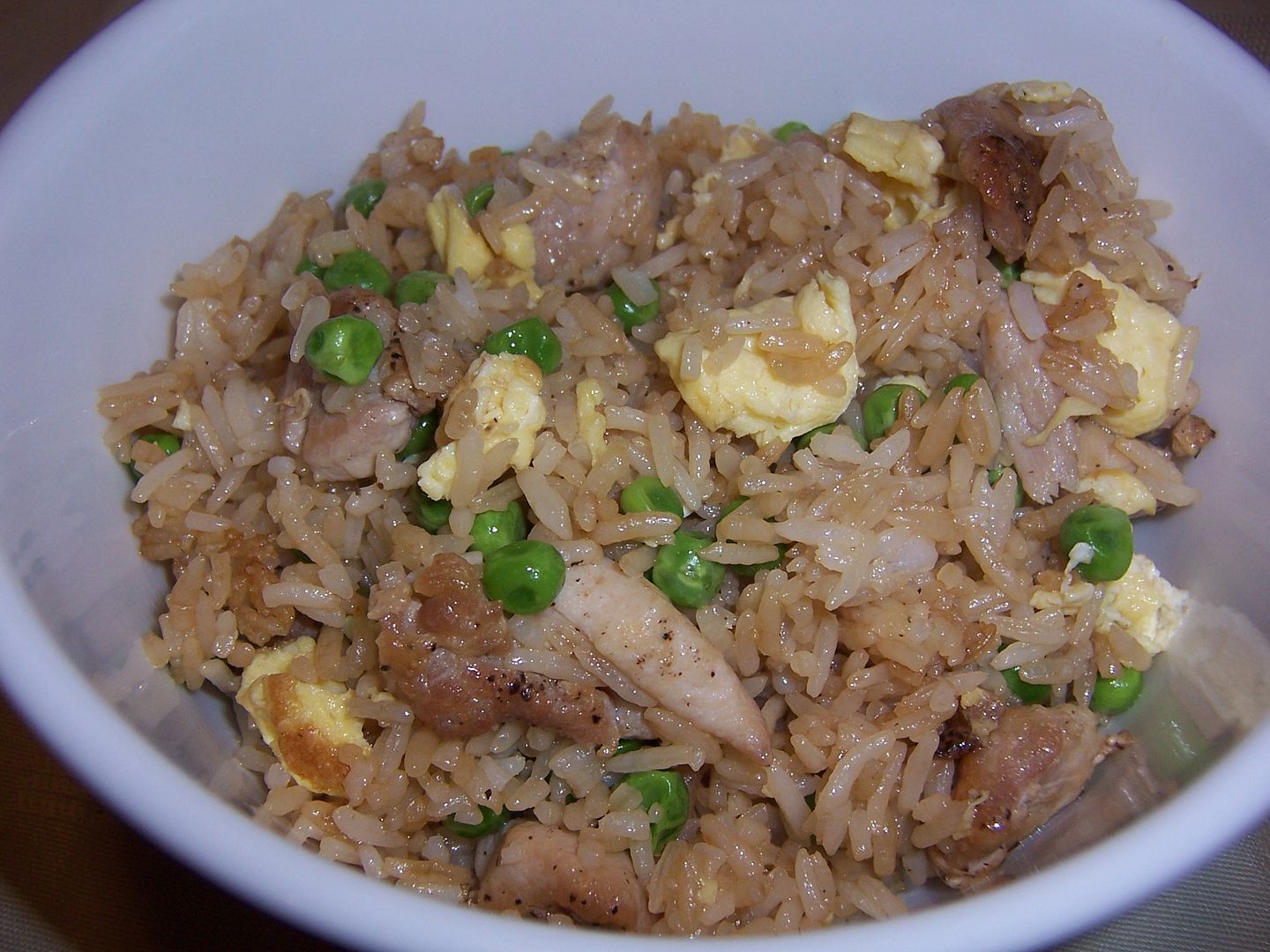 Chicken Fried Rice
Serves 4
1 lb skinless boneless chicken thighs
kosher salt and black pepper
2 tbsp canola oil, divided
3 eggs, lightly beaten
6 cups chilled leftover rice, fluffed with a fork to separate the grains
2 tbsp soy sauce
2 tsp sesame oil
1 cup frozen petite peas, thawed
Cut the chicken into small bite-sized pieces and season with the salt and pepper.
In a large wok or skillet, heat 1 tbsp of the oil over medium high heat. When it just starts to smoke, add the chicken pieces and spread into a single layer. Let cook for 2 minutes without stirring to get good browning, then stir to cook through, about another 2 mintues. Remove the chicken to a bowl, leaving as much of the oil as possible in the wok.
Add the eggs and stir to scramble well until just cooked through and set, breaking up into small pieces. Remove to the same bowl where the chicken is resting.
Add the other tablespoon of oil and allow to heat for 30 seconds or until just smoking. Add the rice and spread into a thin layer. Let cook for 1-2 minutes or until the rice is sizzling well. Toss well and let cook for another 1-2 minutes.
Sprinkle the soy sauce over the rice and stir well to coat all the grains. Add the peas, chicken, egg, and sesame oil and toss to combine. Let cook for 2-3 minutes more until all the ingredients are sizzling.
Serve hot.