May 3, 2009 – 10:51 am
Back in December, I tried a mix from Target for Pumpkin Monkey Bread. It was quite good, and I made a note to try to replicate it. Yesterday talking to my mom, she mentioned making sweet potato biscuits for a Kentucky Derby dinner, and it set off the itch in me to try to make the pumpkin monkey bread. This was not too shabby for a first try. They tasted better cool, and they were more on the savory side. As is, I think they'd make a great side for some barbecue. Next time I think I'll add another couple tablespoons of sugar for more of the sweet monkey bread taste, but I have it written as I made them this morning below.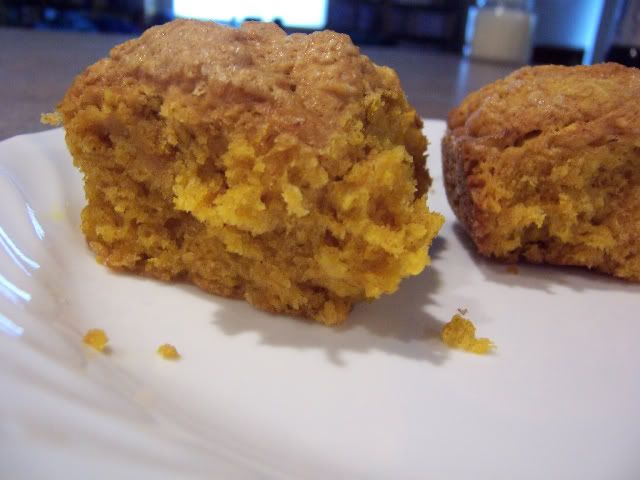 Pumpkin Monkey Bread
Makes 8 servings, 2 biscuits per serving
For the dough:
1½ cups all purpose flour
2 tbsp sugar
4 tsp baking powder
½ tsp salt
½ tsp cinnamon
¼ tsp freshly ground nutmeg
¼ tsp ground ginger
¾ cup pure pumpkin puree
¼ cup unsalted butter, melted
2 tbsp buttermilk
For the topping:
2 tbsp sugar
½ tsp cinnamon
2 tbsp unsalted butter, melted
Preheat oven to 365 degrees F. Spray an 8×8 baking dish with nonstick spray.
In a bowl, mix together the flour, sugar, baking powder, salt, cinnamon, nutmeg, and ginger. In a separate large mixing bowl, stir together the pumpkin and melted butter until smooth. Add the flour mixture and stir. Add the buttermilk and stir to create a thick dough. It should be somewhat sticky.
In a shallow dish, mix together the sugar and cinnamon for the topping. Take the dough and roll it into balls slightly smaller than golf balls. Roll each ball in the sugar mixture then place in the baking dish. Form 4 rows with 4 balls in each one – 16 total balls. Drizzle with the 2 tbsp melted butter.
Bake for about 35 minutes or until the biscuits are turning golden brown and a toothpick stuck into the center of a middle ball comes out clean.
Allow to cool for 15 minutes before serving.