April 29, 2009 – 7:17 pm
This is a recipe from Cooking Light, July 2001. I had some strawberries and buttermilk that needed to be used up today, and Google was kind enough to point me to the recipe. I've paraphrased the recipe below. It's very nice and refreshing. I was expecting more tang from the buttermilk, but the sugar and fruit mostly overshadowed it. I still don't think I could get Shaun to touch this with a 10 foot pole, dairy hater that he is. Oh well. More for me! It makes enough for two batches in my little Cuisinart, so beware of that. I might just drink the second half of the batch as breakfast smoothies 🙂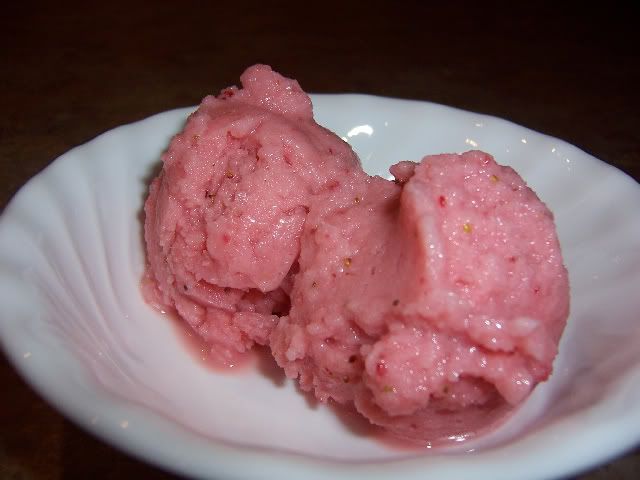 Strawberry-Buttermilk Gelato
Makes 8 cups, 16 servings
2 cups sugar
2 cups water
5 cups quartered strawberries (about 2 lbs or 4 pints whole strawberries)
2 cups low fat buttermilk
In a saucepan combine the sugar and water. Bring to a gentle boil and stir until all the sugar is dissolved. Set the simple syrup aside to cool completely.
Add the berries to a blender and puree until smooth. Combine the puree with the simple syrup and the buttermilk.
Pour the mixture into an ice cream machine and freeze as per the manufacturer's directions. For a firmer freeze, place the mixture in a container and put it in the freezer for an hour or two.