April 18, 2009 – 7:22 pm
These were a nice light meal, satisfying without being too heavy. They're reminiscent of the tacos we could get in San Diego and that are popular along the Baja Peninsula in Mexico.
I'm submitting these to Joelen's Foodie Films: Tortilla Soup event.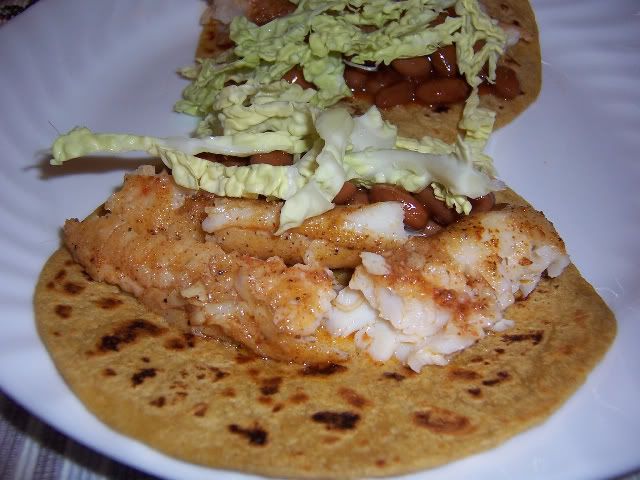 Fish Tacos
Serves 2
For the fish:
1 lb fillets of mild firm white fish (I used swai. Mahi mahi, cod, or halibut would also be good)
½ tsp kosher salt
½ tsp black pepper
¼ tsp ground cumin
¼ tsp chili powder
½ tbsp canola oil
1 tbsp fresh lime juice
For the rest:
1 can chili beans (I like Bush's) or black or pinto beans
1 cup shredded cabbage
8 small corn tortillas
Season the fish on both sides. Heat the oil in a large skillet and cook the fish for 3-4 minutes on each side, or until cooked through. The fish should be opaque and flake easily. Remove the fish to a plate and sprinkle with lime juice.
Heat the beans and the tortillas and assemble the tacos as desired.