June 4, 2017 – 6:26 pm
This German street food is one of our favorites. A bit time intensive, but worth the effort at least a few times a year!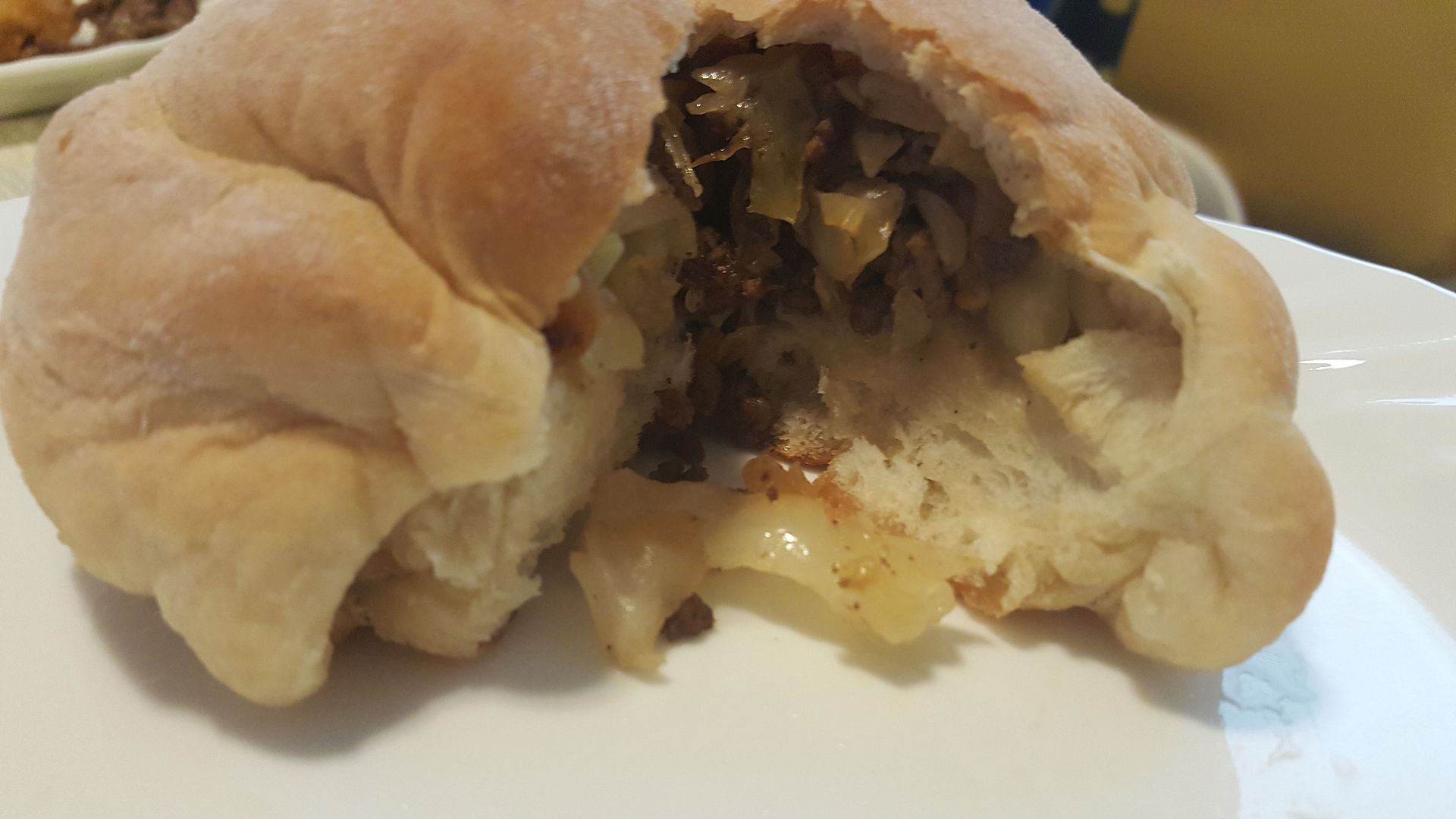 Bierocks
Makes 15 bierocks, 6 dinner servings
2 tbsp canola oil
4 cloves garlic, pressed
3 lb ground beef (I use 15% fat)
3 teaspoon kosher salt
3 teaspoon black pepper
1 tsp onion powder
1/8 cup Worcestershire sauce
1 large green cabbage, cored and shredded
30 frozen dinner rolls, thawed and allowed to rise per package directions (I use Rhodes)
All purpose flour (about 1/2 cup)
Heat the oil in a large skillet over medium high heat. Add the garlic and cook for 15-20 seconds, until it just starts to turn golden brown. Add the ground beef, season it with salt, pepper, and onion powder.and brown it well. Turn the heat down to medium. Add the cabbage, and sauté until the cabbage is wilted down completely. Add the Worcestershire sauce and stir to combine. Turn off the heat and let the mixture cool for 5-10 minutes.
While the mixture is cooking and then cooling, pre-heat the oven to 350 degrees. Flour a board or pastry mat, form a ball with two of the rolls, and roll out each larger ball into a round approximately 6 inches in diameter. Fill with 4 tablespoons of the filling and pinch closed, sealing completely. Place the bierock seam side down on a rimmed baking sheet that has been lined with parchment paper. Space the bierocks with at least 1 inch between each one to avoid sticking. Place the baking sheet in the oven and bake bierocks for 25-35 minutes or until golden brown. Serve hot.