January 23, 2017 – 6:25 pm
Traditionally served for the Chinese New Year, longevity noodles symbolize wishes for a long and happy life. Be careful not to cut or break the noodles as you cook them, as the length is symbolic of the eaters' lives! These are wonderful with skinless boneless chicken thighs as well (use 1 lb, cut into bite size chunks), but my favorite version is with shrimp. My starting point for this recipe was the excellent one provided by New York Times Cooking.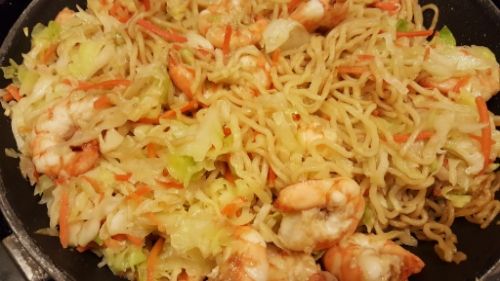 Longevity Noodles
Serves 3 generously
For the noodles:
18 ounces thin fresh stir fry noodles (often found in the produce department)
3 tsp toasted sesame oil
For the shrimp:
16 oz "jumbo" shrimp (I use U20 flash frozen pre-shelled and deveined that I've defrosted in cold running water and patted dry)
1 tbsp finely shredded ginger
2 tsp Shaoxing Chinese rice wine
2 tsp cornstarch
2 tsp soy sauce
Kosher salt
¼ tsp ground white pepper
For the stir fry:
2 tbsp vegetable oil, divided
¼ tsp red pepper flakes
2 cloves garlic, finely minced
16 oz thinly sliced cabbage and shredded carrots (coleslaw mix)
8 oz fresh shiitake or crimini mushrooms, thinly sliced (remove the stems first if using shiitakes)
2 tbsp Shaoxing rice wine
2 tbsp soy sauce
Cook the noodles in boiling water according to the package directions. Drain well, then toss with the sesame oil and set aside.
Mix the ginger with the Shaoxing rice wine, soy sauce, cornstarch, a good pinch of kosher salt, and the white pepper in a medium bowl. Add the shrimp and toss to combine. Let the shrimp marinate for 5 minutes.
Heat 1 tbsp vegetable oil in a large flat bottomed wok over medium high heat. Add the red pepper flakes and garlic and stir briefly to infuse the oil. Add the shrimp, spreading them out into a single layer. Let one side sear nicely (30-60 seconds), then turn them over to cook the other side (about 1 more minute). Remove the shrimp to a clean bowl.
Add the cabbage and mushrooms. Stir fry until the cabbage is just starting to wilt and the mushrooms are turning tender, 1-2 minutes. Remove the veggies to the same bowl where the shrimp is waiting.
Add the other tbsp of olive oil and when it shimmers, add the noodles to the wok. Carefully toss and stir so that the noodles separate and get just a little bit of caramelization. Add the shrimp and veggies back to the wok along with the Shaoxing rice wine and soy sauce, and toss to combine well. Cook for another minute or two to bring the shrimp and veggies back to piping hot and meld the flavors.
Serve hot.