September 26, 2016 – 8:33 pm
Amazon had a great lightning deal on Instant Pot electronic pressure cookers. Several of my friends have been raving about theirs, so I finally hit the buy button. I gotta say, I do love it! We tried the kalua pork that's in the instruction manual, which turned out as good as my all day crockpot pulled pork, but with about 90 minutes of cooking time. Today I tried my mushroom risotto. Normally it's not something I'd try on a weeknight, but the recipes I checked out for the Instant Pot put it in the realm of possible, even with my little tornado of a helper. He was not interested in "mama's mushroom rice" but we'll give it another try sometime!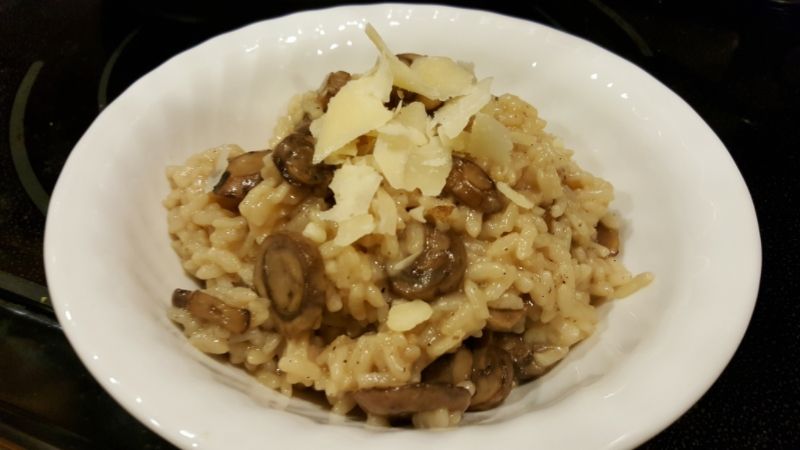 Mushroom Risotto
Serves 6
3 tbsp butter
3 cloves garlic, pressed
1 lb sliced crimini mushrooms
1 small bottle (187 ml) dry white wine (I used pinot grigio)
2 cups uncooked arborio rice
4 cups chicken broth (I like Swanson Natural Goodness when I don't have my own)
Kosher salt and black pepper
Shaved parmesan (optional)
Turn the Instant Pot to saute and add the butter. When it starts to sizzle, add the garlic and cook for 15 seconds until it just starts to turn golden. Add the mushrooms, season lightly with salt and pepper, and stir to combine. Cook the mushrooms until they are just starting to brown and cook down. Add the wine and let the mushrooms cook down until the alcohol smell is almost gone and the wine is reduced by about half, about 10 minutes.
Add the rice and the chicken broth, stirring to combine. Season again lightly with salt and black pepper. Place the lid on and turn to seal. Turn the Instant Pot to Manual and set the timer for 6 minutes. It will come up to pressure over about 10 minutes, then it will count down the 6 minutes cooking time at pressure. WHen the timer reaches zero, carefully switch the top valve from Sealing to Venting for a fast release. When you are able, remove the lid and stir the risotto a final time. Serve warm with shaved parmesan cheese.