January 3, 2015 – 2:30 pm
These are a delicious dumpling in the same line as baked pork flower dumplings, baked Asian turkey buns, and hom bao.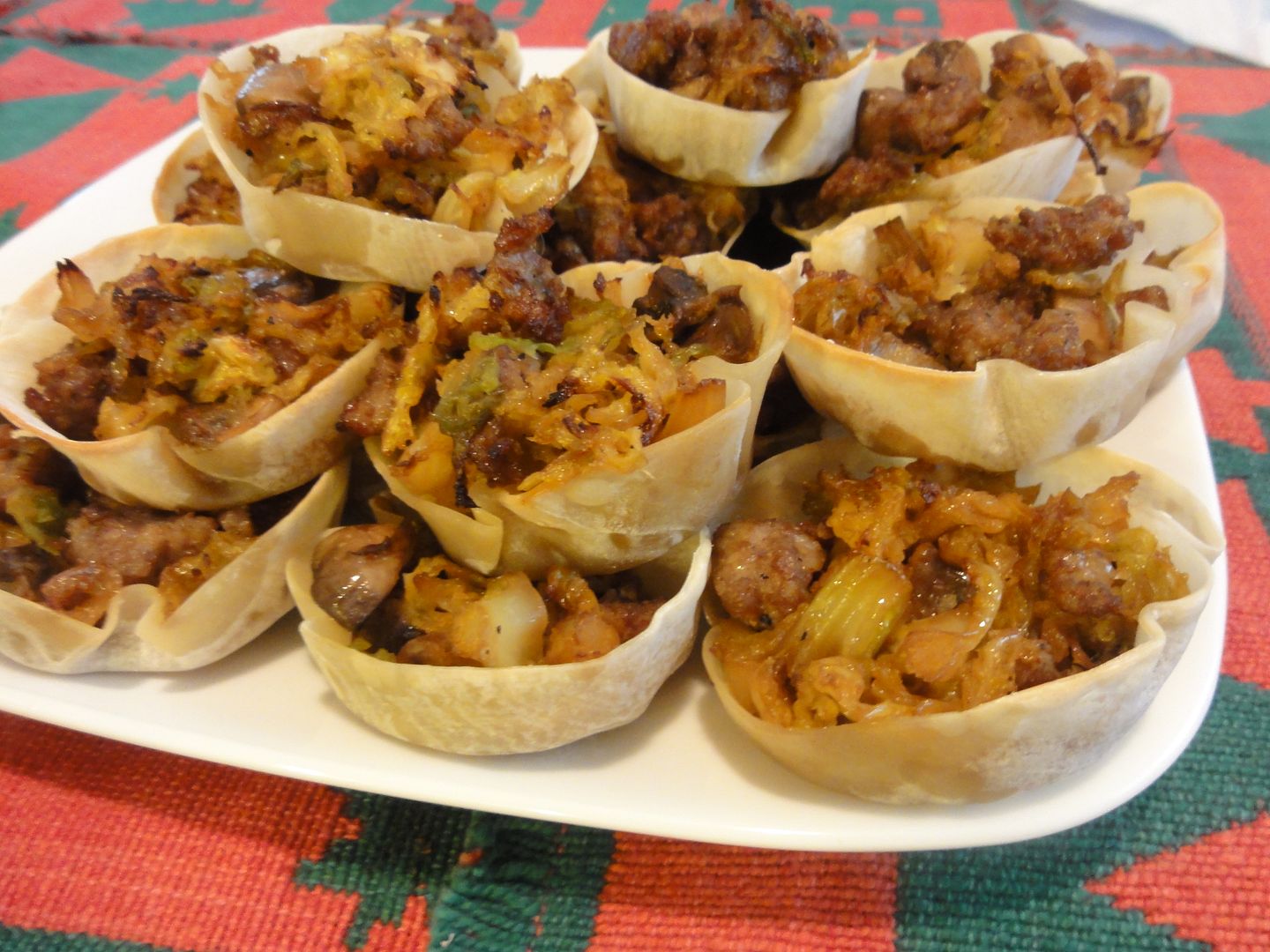 Baked Pork Dumplings
Makes 36 dumplings
1 package gyoza wrappers
1/4 cup canola oil, divided
1 lb small button mushrooms, quartered
1 large head savoy cabbage (about 1 lb)
1 lb ground pork
1 tbsp fresh grated ginger
1 large clove garlic, pressed
1/8 tsp onion powder
1/4 tsp black pepper
1/4 cup soy sauce
2 tbsp shaoxing rice wine or mirin
1 tsp sesame oil
Preheat the oven to 375 degrees F. Line muffin tins with the gyoza wrappers, gently pressing the wrapper into the bottom of each cavity.
Heat 2 tbsp of canola oil in a large skillet or wok over medium high heat. Add the mushrooms and stir fry until cooked through. Remove them to a bowl. Heat another 1 tbsp of canola oil. Add the cabbage and stir fry, adding water if needed, until cooked through. Remove to the bowl with the mushrooms. Heat the final tbsp of canola oil and add the pork. Brown it well, breaking it up into small pieces. Add the garlic and ginger and stir fry until just fragrant, about 30 seconds. Add the onion powder and pepper and toss to combine. Add the cabbage and mushrooms back to the pan. Pour the soy sauce, rice wine, and sesame oil over the top and stir to combine well. Stir fry together for a minute or two to meld the flavors.
Add about 2 tbsp of the filling to each wrapper. Bake for 10 – 15 minutes, or until the wrappers are toasty brown around the edges and bottoms.
Remove to a platter and serve warm.