September 20, 2011 – 5:43 pm
This gumbo concoction is a conglomeration of many recipes out there on the web. It's a great use for leftover chicken, and could easily be adapted to use fresh chicken as well. We really enjoyed this and will be repeating it many times in the coming fall and winter months, I'm sure!
This is a cross between cajun and creole gumbos, having a lighter roux made with butter and the addition of tomatoes as in a creole version, but also okra, chicken, and andouille as in the cajun versions. The thickness of the broth is not quite a stew, but much thicker than your average soup. Adding a few baby shrimp at the very end of the cooking time would be a great addition and another check in the creole column. 🙂 This has a little kick to it, but nothing overwhelming. Increase or decrease the hot sauce, black pepper, and cayenne to your tastes.
This is usually served over rice, but we had it on its own today. A low carb option would be to add a can of cannelloni beans along with the other veggies – a bit more body to an already hearty meal.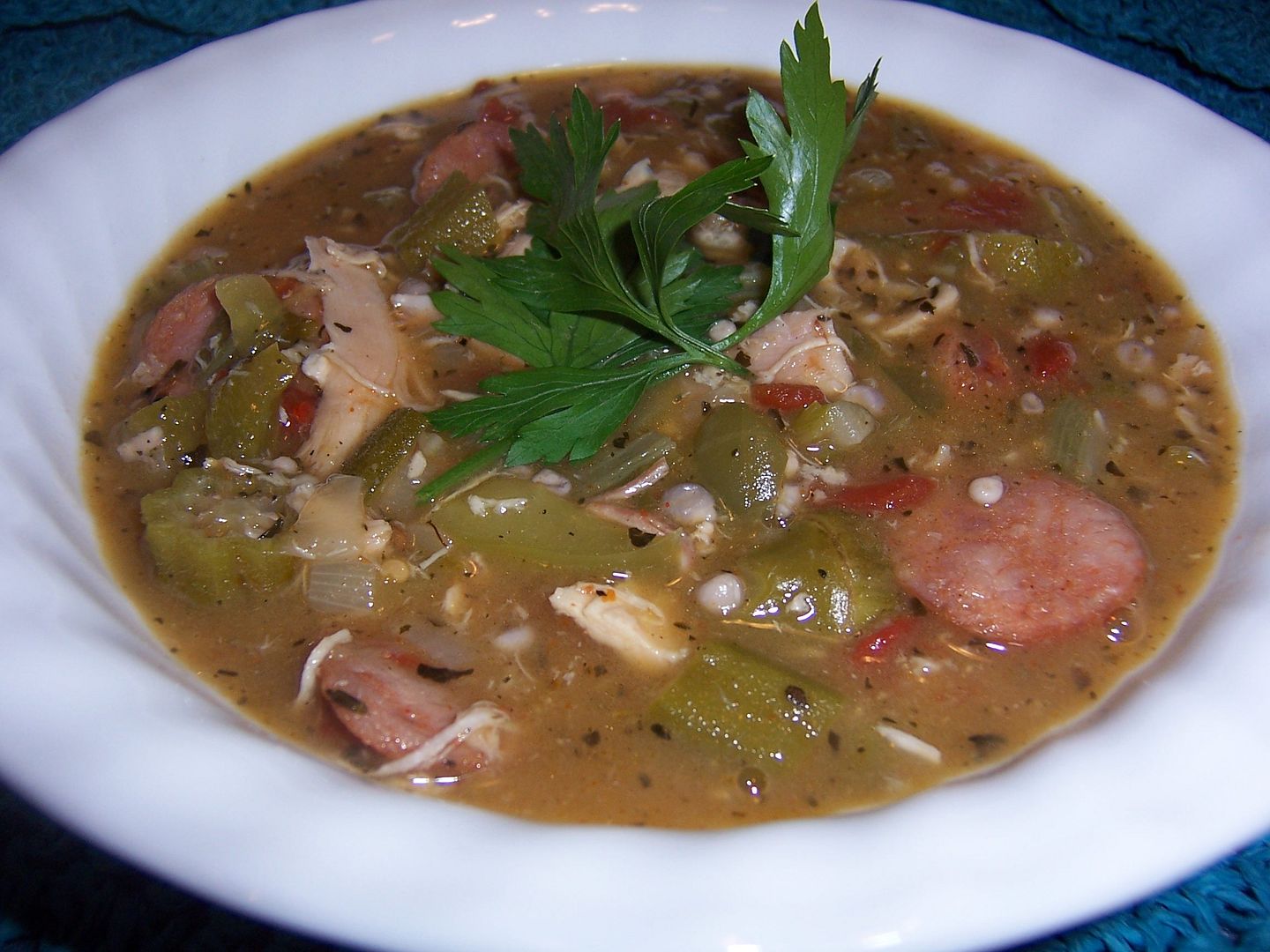 Chicken and Sausage Gumbo
Serves 4
1 tbsp butter
1 tbsp canola oil
1 small onion, finely diced
2 cloves garlic, pressed
2 tbsp all purpose flour
2 cups non fat low sodium chicken broth
1 can tomatoes with green chile (e.g. Ro-Tel; I used the original, medium spice)
3-4 cups leftover chicken, cut into bite sized pieces (I used a mix of light and dark meat)
2 small links andouille sausage (6 oz total), cut into bite sized pieces (I like Aidell's)
1 10-oz bag frozen cut okra
1 small green bell pepper, seeded and diced
1 bay leaf
1/2 tsp kosher salt
1/2 tsp dried thyme
1/2 tsp dried basil
1/4 tsp cayenne pepper
1/2 tsp black pepper
1 tsp hot sauce (I like Frank's Red Hot)
fresh parsley for garnish, if desired
Heat the butter and oil in a soup pot over medium heat. When the butter starts to foam, add the onion and garlic and saute until the onion is are tender and translucent, about 5 minutes. Add the flour and whisk to combine completely.
Let the roux cook for about 1 minute, or until bubbling and turning a just a little bit golden. Add the chicken broth and whisk until the roux is completely incorporated. Add the rest of the ingredients except for the parsley and stir to combine well.
Increase the heat to medium high. Bring the mixture to a boil then reduce the heat to medium low and simmer for 30-35 minutes to allow the flavors to meld and the okra to become tender and add some thickness to the stew. Discard the bay leaf, and serve hot, garnishing with fresh parsley if desired.