October 6, 2023 – 12:07 pm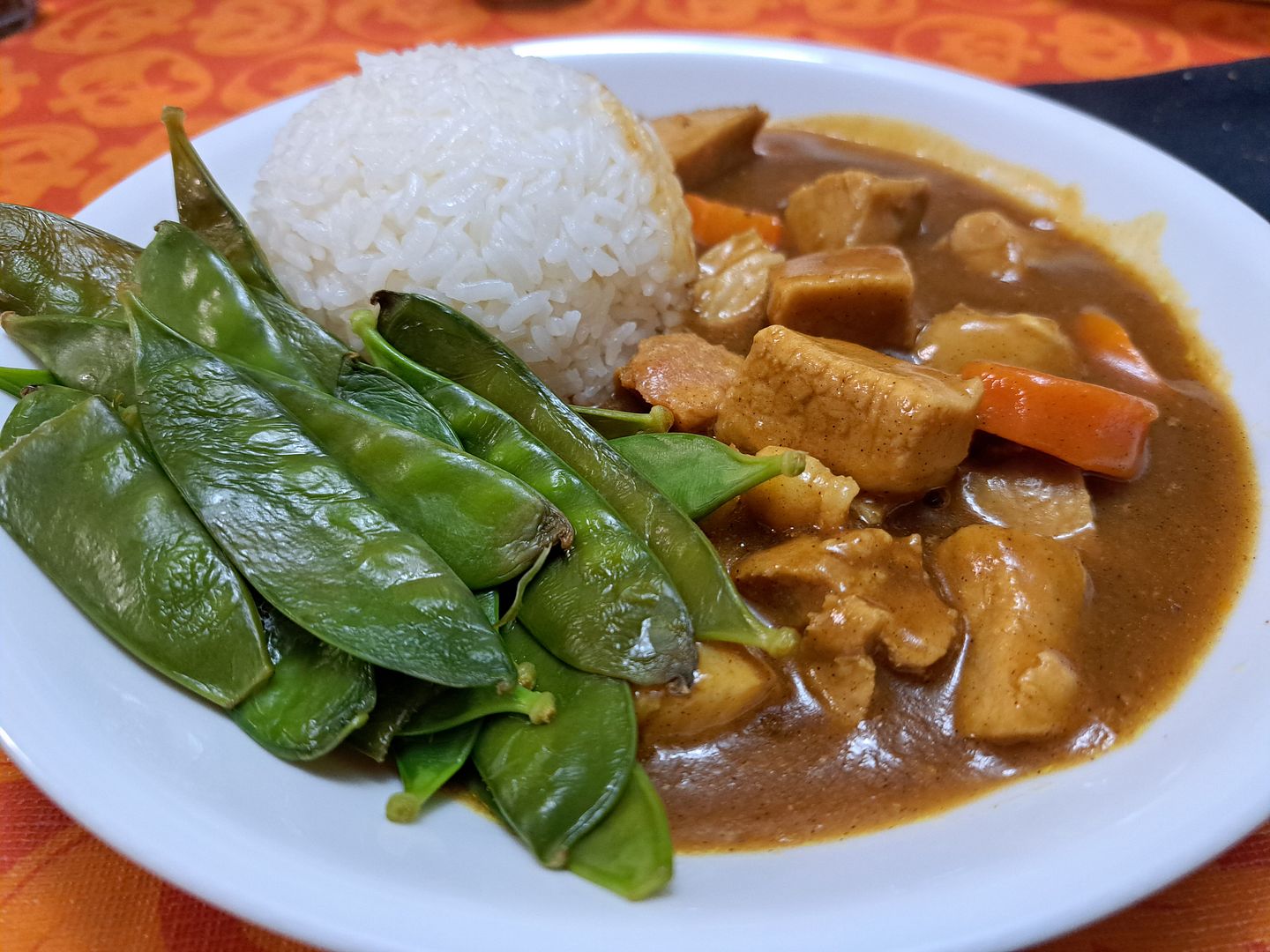 We fell even more in love with Japanese cuisine when Shaun did a tour of duty over in Yokosuka several years ago. Japanese curry is a common comfort food over there, easy to make with just about whatever you have on hand, tasty, filling, and decently well balanced nutritionally. If you aren't up for making it over there, walking to the closest CoCo Curry will also satisfy the craving.
Potatoes and carrots are the most common vegetables simmered in the stew, but other root vegetables, summer or winter squash, mushrooms, and many other things work fantastically as well. The picture above is a curry made with leftover sous vide pork loin, potatoes, and carrots, served with steamed Calrose rice and stir fried snow peas. Curry is also often served with ramen or udon or on a roll, not just with rice, though rice is perhaps most common.
The two keys to making this quickly are using whatever handy leftover protein you have, and using the Japanese curry roux blocks, which are becoming more and more available, even in regular grocery stores, though not the variety that you'd find in an Asian grocery, or over in Japan, of course. Our favorite variety is the House Foods Java Curry, Medium Hot, but we also quite like their Vermont Curry. We're less fans of the S&B brand, but they are more widely available, and they definitely still work, though I'll add more seasonings to help pep it up. It is also possible to make your own curry roux (I highly recommend everything on Just One Cookbook, by the way. She has fantastic Japanese recipes with an eye to the home cook here in the US).
You can of course start with raw meat. Just brown it up before adding the carrots and potatoes to the pot.
Pork Japanese Curry
Ingredients:

Vegetable Oil, 2 tbsp
Carrots, 3 large, about 12 oz, peeled and cut into bite sized chunks
Yukon Gold Potatoes, 3 medium, about 1 lb, cut into bite sized chunks
Garlic, 2 large cloves, pressed
Water, 5 cups
Better Than Bouillon Roasted Chicken Base, 2 tbsp
Soy sauce, 1 tbsp
Leftover pork loin (or other cooked protein of your choice), about 1 lb, cut into bite sized chunks
1 box curry roux (about 8 oz)
Instructions:
Heat the oil in a large sauce pan over medium heat.
Add the carrots and potatoes. Saute until the vegetables are starting to soften and brown.
Add the garlic and stir to combine. Cook for 30 seconds to 1 minute, until the garlic turns fragrant.
Add the water, Better Than Bouillon, soy sauce, and pork.
Turn the heat to medium high and bring the water to a boil, making sure to scrape up any browned bits from the bottom of the pan to incorporate into the stew.
Reduce the heat to medium low and simmer for 10-15 minutes, until the vegetables are tender.
Turn the heat off and skim off any foam that has formed on the surface using a small fine mesh strainer.
Break apart the curry roux blocks and add them to the pot, stirring gently until they are fully dissolved.
Turn the heat back to medium. Bring just to a boil, reduce heat to low, and simmer for 5-10 minutes, until the curry has thickened.
Serve warm.