January 20, 2009 – 5:39 pm
This is a really easy and surprisingly good recipe. I'm not sure where I first saw this, whether on AllRecipes or one of the food blogs that I regularly read. I make a few modifications from the original recipe to suit our tastes – foremost being that I use a boneless pork shoulder roast rather than tenderloin. The shoulder is not only much cheaper, it also responds much better to the low and slow cooking. Tenderloin is so lean that it can dry out, even with the moist cooking method. The brand names mentioned below are simply what we like flavor-wise. I am not paid by anyone to mention names, and you won't hurt my feelings if you use something different. I'm just telling you what we use 🙂
It's odd how pork and soda seem to have an affinity. Nigella Lawson's cola roasted ham is amazing, and the leftovers make the best black bean soup on the planet. Hopefully I'll get to blogging those recipes in the coming months.
For a side dish, we just had a green salad, but coleslaw and baked beans also work very well when you have more people eating.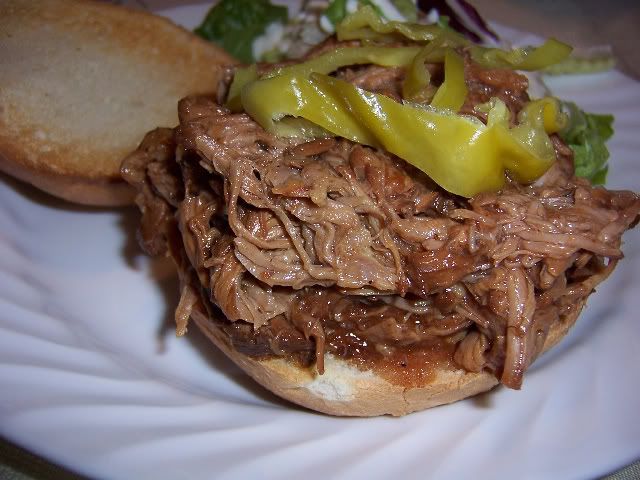 Crock-pot Pulled Pork
Serves 8
For the pork:
1 pork shoulder roast, 4-5 pounds
2 12-oz cans Barq's Root Beer (we like the spicier bite of Barq's)
10 fl oz (a bit more than ½ a bottle) Sweet Baby Ray's Barbecue Sauce
For serving:
8 kaiser rolls
1 small jar pepperoncini, aka pickled peppers
Put the roast into a large crock-pot (mine is 6.5 quarts) and pour the root beer over the top. Cook on low for 8 hours.
Remove the roast to a large plate or bowl. Drain the liquid from the crock-pot, reserving about ½ cup. Pull the pork into pieces using two forks or your fingers. Return the meat to the crock-pot. Pour the barbecue sauce over the top and add the reserved ½ cup of cooking liquid. Stir to combine and cook for another ½-1 hour on low. Serve on toasted rolls with extra barbecue sauce and pickled peppers, if desired.
Nutritional Information Per ½ lb of Pulled Pork (includes sauce)
| | |
| --- | --- |
| Calories | 460 |
| Fat | 30 g |
| Saturated Fat | 10 g |
| Cholesterol | 134 mg |
| Sodium | 306 mg |
| Carbohydrates | 12 g |
| Fiber | 0 g |
| Protein | 33 g |
| Vitamin A | 0% |
| Vitamin C | 6% |
| Calcium | 5% |
| Iron | 12% |