January 17, 2009 – 7:31 pm
This is a traditional Polish / Jewish dish. Shaun and I had never had it before, but my mother recently made a batch, and it sounded intriguing, so I added it to my list of things to make and looked around at a few other recipes. A few weeks later we got around to to making our own version. Onion is more traditional, but as I have a bit of an allergy to the things, we substituted zucchini for the vegetable in the filling.
We both started out thinking that the dish was rather weird, not having grown up with it, but as we ate, we decided that we rather liked it. It won't be joining our regular rotation of meals, but it'll definitely get made again. We had this with a loaf of homemade wheat bread from our little bread machine.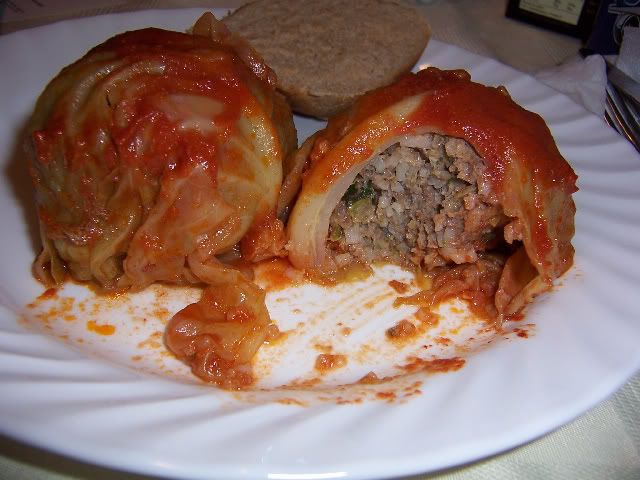 Stuffed Cabbage Rolls
Serves 4
1 medium head of cabbage
1 lb ground beef (I used 15% fat)
1 egg
1 medium zucchini (about 8 oz), grated
½ tsp salt
½ tsp black pepper
2 cups cooked and cooled rice (I used some we had leftover from yesterday)
2 small (8 oz) cans tomato sauce
3 tbsp white wine vinegar
1 tbsp butter
Separate 12 large leaves from the head of cabbage, being careful to keep them as intact as possible. Blanch them in boiling salted water for 5 minutes, then drain and set aside to cool. This will make the leaves easy to roll.
In a mixing bowl, add the beef, egg, grated zucchini, salt, pepper, and rice, and mix together well. Spoon about ¼ cup of the mixture into the center of a cabbage leaf and fold the leaf around the filling. Secure with a wooden toothpick. Repeat with the remaining leaves until you have 12 rolls. If there is any remaining filling, form it into small patties.
In another small mixing bowl, stir together the tomato sauce and the vinegar.
Over medium heat, melt the butter in a saucepan or deep skillet large enough to hold all of the rolls in a single layer. Add the rolls, seam side down. Place any filling patties on top. Pour the sauce over the whole thing and cover.
Turn the heat to medium low and cook covered for about 1 hour or until an instant read thermometer placed into the center of a roll reads 180 degrees F. Serve hot.
Nutritional Information Per Serving (3 Stuffed Cabbage Rolls)
| | |
| --- | --- |
| Calories | 420 |
| Fat | 19 g |
| Saturated Fat | 7 g |
| Cholesterol | 130 mg |
| Sodium | 1442 mg |
| Carbohydrates | 34 g |
| Fiber | 4 g |
| Protein | 27 g |
| Vitamin A | 15% |
| Vitamin C | 59% |
| Calcium | 7% |
| Iron | 23% |