December 30, 2008 – 4:42 pm
This is another wonderful recipe from The Joy of Cooking. I used Fuji apples, and closer to 8 cups of slices (though I only used 4 giant apples 🙂 ) as we like our pies brimming with fruit. I should have added a bit more flour, as it didn't quite thicken up as much as it should have, but it was so tasty that no one minded! You can find my recipe for pie crust here (a combination of a couple Joy of Cooking recipes), or use your own favorite, or even use Pillsbury (shhhhh, that's what I did here!).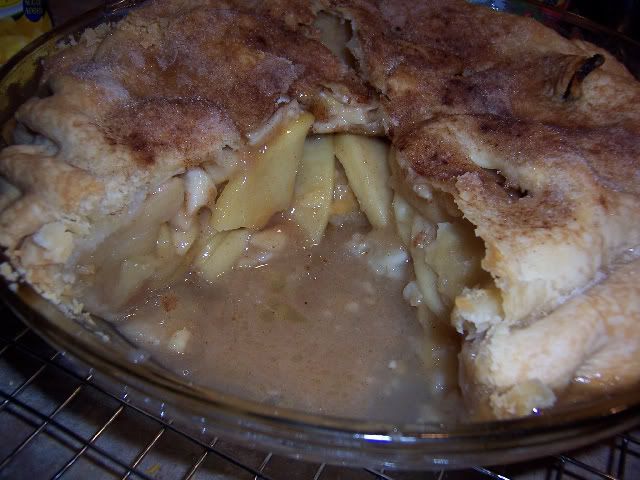 Apple Pie
Serves 6 (1 9-inch pie)
Your favorite pie crust (enough for a top and bottom)
2½ lbs apples (5-6 medium large)
¾ cup sugar
3 tablespoons flour
1 tbsp lemon juice
½ tsp ground cinnamon
⅛ tsp salt
2 tbsp unsalted butter
2 tsp sugar (for topping)
⅛ tsp ground cinnamon (for topping)
Preheat the oven to 425 degrees F.
Peel and core the apples and cut into ¼ inch slices. Stir together with the sugar, flour, lemon juice, cinnamon, and salt, and let sit for 15 minutes, stirring occasionally. Place one rolled out crust into a 9 inch pie plate and gently press into place. Pour the apple mixture in and level with the back of a spoon, heaping towards the middle if necessary. Cut butter into small pieces and scatter over the top of the apples. Place other rolled out crust over the top and crimp the crusts together. Cut steam vents in the top and sprinkle with the sugar and cinnamon.
Bake the pie for 30 minutes, then reduce oven temperature to 350 degrees and bake for another 25-45 minutes or until the apples are tender when poked with a skewer through one of the steam vents.
Let the pie cool completely (3-4 hours) on a cooling rack before cutting to allow the filling to thicken. If desired, the pie can be rewarmed in a 350 degree oven for 15 minutes before serving.
Nutritional Information Per Slice
(assuming 6 slices per pie)
| | |
| --- | --- |
| Calories | 546 |
| Fat | 23 g |
| Saturated Fat | 9 g |
| Cholesterol | 17 mg |
| Sodium | 342 mg |
| Carbohydrates | 85 g |
| Fiber | 3 g |
| Protein | 2 g |
| Vitamin A | 4% |
| Vitamin C | 12% |
| Calcium | 1% |
| Iron | 2% |