December 24, 2008 – 7:40 pm
These are a very easy appetizer or meal that looks and tastes like you spent a long time preparing. The key with such simple recipes is to get high quality ingredients since each one stands out. I got 31-40 size easy-peel shrimp and defrosted them and peeled them myself. It's a little bit cheaper, and when you defrost and peel them yourself, you get a higher quality product by cutting out a middle step between you and the shrimp boat where they were frozen.
We usually have some steamed crab legs on Christmas Eve too, but since we'd just had some lovely steamed Dungeness crab, we just did the bacon wrapped shrimp this year with a nice green salad.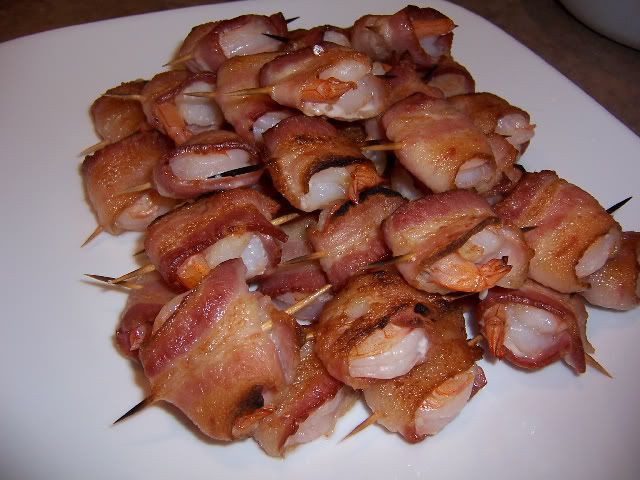 Bacon Wrapped Shrimp
Serves 4 as an entrée (about 10 shrimp per person) or 12 as an appetizer (about 3 shrimp per person)
1 pound easy peel shrimp (31-40 per pound)
1 pound hickory smoked bacon (not thick)
40 toothpicks
Preheat the broiler (high setting if you have a high and a low setting) and place a rack on the very top shelf. Cut the bacon into thirds. Defrost the shrimp under running cool water and peel then pat them dry. Wrap a piece of bacon around each shrimp and secure with a toothpick. Place on a broiling pan, or if you're lacking one like me, line a rimmed cookie sheet with foil and place a metal cooling rack inside. This makes a great improvised broiling pan and makes cleanup a snap. Broil the shrimp for about 5 minutes or until the shrimp are cooked through and the bacon is turning crisp. If desired, flip the shrimp and broil for another minute on the other side. I usually don't bother since they smell so good at this point 🙂
Nutritional Information Per Entrée Serving
| | |
| --- | --- |
| Calories | 227 |
| Fat | 15 g |
| Saturated Fat | 5 g |
| Cholesterol | 141 mg |
| Sodium | 752 mg |
| Carbohydrates | 1 g |
| Fiber | 0 g |
| Protein | 22 g |
| Vitamin A | 4% |
| Vitamin C | 2% |
| Calcium | 4% |
| Iron | 10% |