December 15, 2008 – 7:22 pm
Also spelled hom bow or hombows, these steamed pork and vegetable filled buns are one of my all-time favorite meals. They do take some effort, but boy is it worth it. My kid brother and I would beg Mom to make these, and every now and again on a weekend we'd clear off the big kitchen table and prepare these wonderful dim sum. I intended on making these this weekend, but life interfered, and so I made them tonight. It was about 3 hours total time from starting prep work to putting dishes in the dishwasher, so it's definitely not a typical weeknight meal, but it was very spot-hitting!
I'm submitting this post to Joelen's Wine and Dine: Chinese New Year event.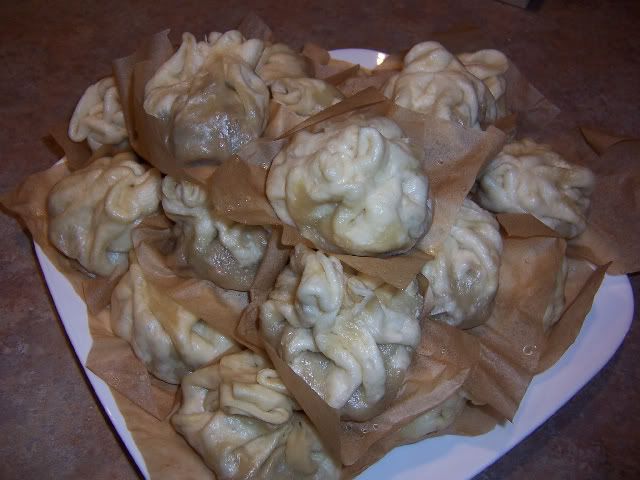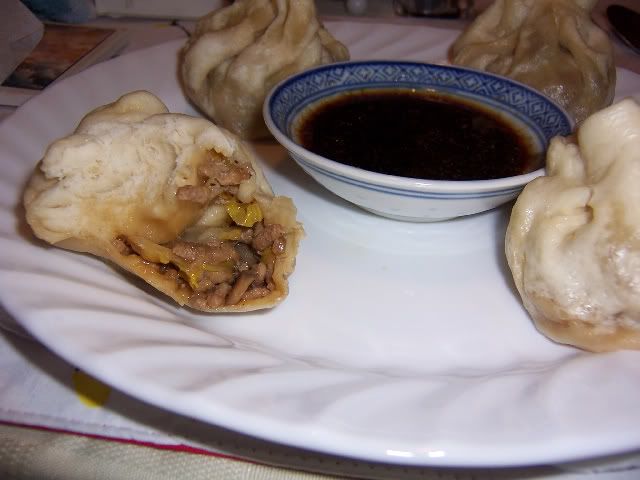 Hom Bao
Makes 24 buns
1 recipe Mandarin Bun Dough (recipe to
follow)
OR
2 12 oz cans of refrigerated biscuit dough if
you're really in a hurry or don't feel like
making the dough
1 tbsp sesame oil
1 lb ground pork
1 tbsp minced fresh ginger root
1 large garlic clove, minced
¼ tsp sugar
¼ tsp pepper
¼ tsp salt
⅓ cup soy sauce
1 lb chinese or napa cabbage, coarsely shredded
8 oz button mushrooms, sliced
Prepare the dough so that it can rise as you make the filling.
Brown the pork in the sesame oil in a large skillet over medium heat with the ginger,
sugar, soy sauce, pepper, and salt. When the meat is browned, add the mushrooms and
cabbage. Cook until the cabbage is wilted down and the mushrooms are cooked. Turn
off the heat and let the filling cool.
Break off golf ball sized balls of the dough. Roll each one into a round about 5 inches in
diameter. Stack the rounds with a layer of wax or parchment paper between them so that
they don't stick together.
Get a big pot or a wok with a steamer rack going with water gently boiling.
Hold a round in your left hand. Fill each round with about 2 tablespoons of the filling.
Gather up the dough around the sides, pulling it up over the filling, and squish and
slightly twist together.
Place the completed dumpling on a piece of wax or parchment paper (you can reuse the
ones you were using before).
When you have enough to fill your steamer rack without crowding, put them in, being
careful to put them in such that you don't unbalance the steamer rack and dump them in
the water.
Steam each batch for about 15 minutes or until the dough is cooked.
Remove the bao and place on a platter. Cover with a tea towel if you aren't ready to eat
them yet. Continue until all the dumplings are cooked. If you have any leftover dough, simply roll them into golf ball sized rolls and steam them along with the last batch of hom bao.
Serve with various dipping sauces as desired. Hoisin sauce, sweet and sour sauce, and
oddly enough Lea and Perrin's Worcestershire Steak Sauce are very good, as is the
following:
Cassie's Dim Sum Dipping Sauce (1 serving, scale as you need too)
1 tbsp soy sauce
1 tbsp white wine vinegar
A dash of ground ginger
A dash of sesame oil
Stir together.
Mandarin Bun Dough
2 tbsp sugar
1 ⅓ cups warm water
1 package active dry yeast (2 ¼ tsp)
4 cups all purpose flour
1 tsp softened butter
Mix sugar and warm water in a small bowl. Sprinkle the yeast over the water and stir to
dissolve. Let bloom for 5-10 minutes. Put the flour in a large bowl and make a well in the
center of it with your fingers. Slowly pour the yeast mixture into the well. Mix
thoroughly, adding the butter as you incorporate the yeast. Turn out the dough onto a
floured surface and knead for 5 minutes until the dough is smooth and elastic. Dough will
be firm. Place in a large bowl and cover with a damp cloth. Let rise in a warm place for
about an hour. Turn out onto a floured surface. Dough is ready to use.
Nutritional Information Per One Bun
| | |
| --- | --- |
| Calories | 110 |
| Fat | 2 g |
| Saturated Fat | 1 g |
| Cholesterol | 13 mg |
| Sodium | 242 mg |
| Carbohydrates | 17 g |
| Fiber | 1 g |
| Protein | 7 g |
| Vitamin A | 4% |
| Vitamin C | 5% |
| Calcium | 1% |
| Iron | 7% |