December 2, 2008 – 10:23 am
Yet another use for leftover turkey. I haven't made these yet this year, so the pictures are from last year, but hopefully I'll get to these soon with some of the now frozen leftover meat.
This is a take on a traditional Mexican meal. I use regular masa rather than tamale mix masa, but either one will work fine – just follow the instructions on the package to make the dough. Most of the time I just use parchment paper rather than soaked corn husks. It's easier to get a consistent size and shape for the wrapper that way. These are time consuming to make, but fun, so get a group of friends and have a tamale party 🙂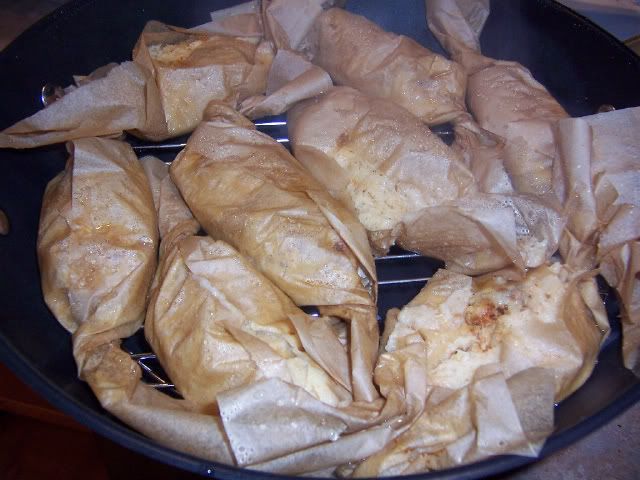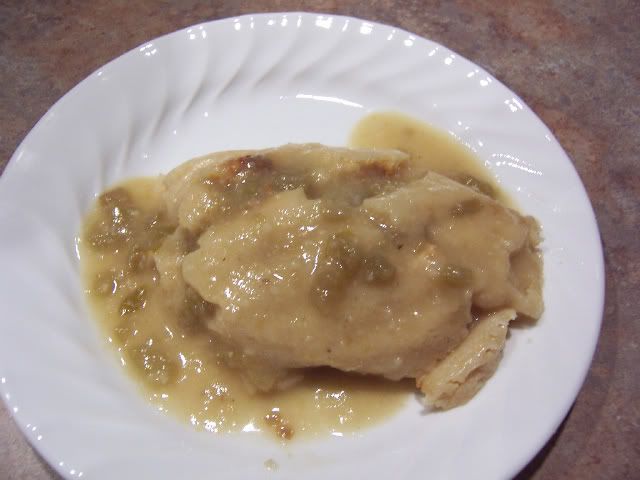 Turkey Tamales
Makes about 16 tamales
Ingredients:
Tamale Dough:
2 cups masa (Maseca is the brand I use)
1 tsp baking powder
½ tsp salt
2 cups warm turkey stock (or water)
⅓ cup butter
⅓ cup canola oil
Parchment paper
Filling:
1 lb leftover turkey (or the meat from a store bought rotisserie chicken or one pound of ground turkey, browned)
1 tbsp dark chili powder (Gebhart recommended)
1 tsp salt
1 tsp ground black pepper
1 tbsp ground cumin
1 tsp onion powder
2 cloves garlic, pressed
1 chipotle pepper in adobo sauce, minced
Topping/dipping sauce of your choice
I usually make green chile sauce to go with these (recipe below), but they're fine naked, and kids seem to like them with ketchup.
Instructions:
Tamale Dough: Combine the masa, baking powder, and salt in a bowl. Mix in the stock with your fingers to make a soft dough. In a separate bowl, beat together the butter and canola oil until light and fluffy. Add the masa mixture and beat until the dough has a spongy texture.
Filling: Shred the turkey finely and mix with the seasonings.
Assembly and steaming: Spread about two tablespoons of masa evenly over the center of a square of parchment paper. Add a tablespoon of filling in a line down the middle of the masa. Gently roll the dough around the filling and twist the ends of the parchment together to seal. Place in a large steamer and steam for about an hour, or until the masa is firm and easily pulls away from the parchment.
Nutritional Information Per Serving (1 Tamale)
| | |
| --- | --- |
| Calories | 170 |
| Fat | 9 g |
| Saturated Fat | 3 g |
| Cholesterol | 34 mg |
| Sodium | 375 mg |
| Carbohydrates | 12 g |
| Fiber | 0 g |
| Protein | 10 g |
| Vitamin A | 7% |
| Vitamin C | 1% |
| Calcium | 4% |
| Iron | 9% |
Green Chile Sauce
2 tbsp butter
1 clove garlic, minced
2 tbsp flour
2 cups chicken stock (I usually use turkey stock since I have it on hand from the turkey carcass)
1 can (7 oz ) diced green chiles
1 tsp ground cumin
In a sauce pan over medium heat, warm the butter and sauté the garlic for a couple minutes until just turning golden brown. Stir in the flour to make a roux and heat until bubbling and smooth. Add the chicken stock, the green chiles, and the cumin and simmer over low heat until thickened.
Nutritional Information Per 2 Tbsp Serving
| | |
| --- | --- |
| Calories | 22 |
| Fat | 1 g |
| Saturated Fat | 1 g |
| Cholesterol | 4 mg |
| Sodium | 87 mg |
| Carbohydrates | 1 g |
| Fiber | 0 g |
| Protein | 1 g |
| Vitamin A | 3% |
| Vitamin C | 35% |
| Calcium | 0% |
| Iron | 2% |