December 30, 2012 – 11:47 am
We picked up some Oscar Mayer Selects Turkey Dogs at the store yesterday, looking for a healthier but still tasty option to satisfy a hot dog craving. We enjoyed some of the other products in the Selects line, and were hopeful for these.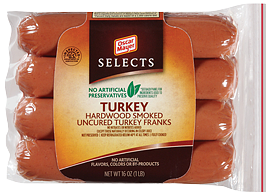 We heated some up for lunch and were very pleasantly surprised and pleased. These taste like good, high quality, spiced and smokey links, with practically no grease. Give these a try, even if you aren't trying to eat healthier. We've found our new go-to hot dog!