March 30, 2012 – 7:32 pm
These are a creation of mine inspired by a couple recipes in my favorite cookie book, The Colorado Cookie Collection
. It's a deliciously rich, cake-like cookie that goes over well with just about anyone. 😀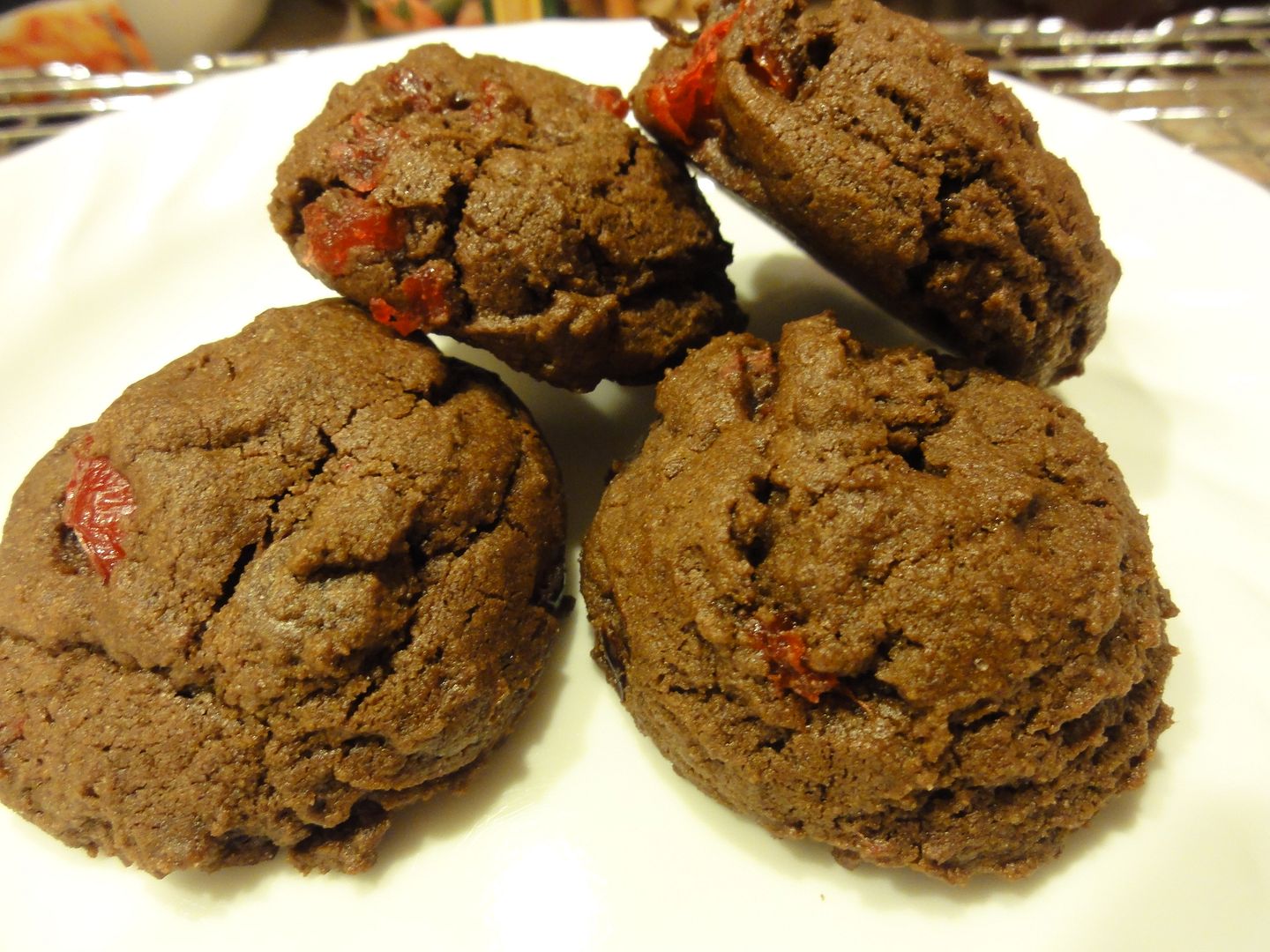 Double Chocolate Double Cherry Cookies
Makes about 56 cookies
2 large eggs
1 tbsp pure vanilla extract
1.5 oz dried whole cherries, cut in half
3 1/2 cups all purpose flour
1 cup cocoa powder (I used Hershey's)
1/2 tsp baking powder
1/2 tsp baking soda
1/4 tsp salt
1 1/2 cups unsalted butter (3 sticks), at room temperature
1 3/4 cups granulated sugar
1 cup maraschino cherries, halved
1/2 cup semi-sweet chocolate chips
Preheat the oven to 375 degrees F and place a rack in the lower half of the oven.
Beat the eggs and vanilla together in a small bowl. Add the dried cherries and cover the bowl. Let the cherries soak for 20 minutes to rehydrate.
While the cherries soak, stir together the flour, cocoa powder, baking powder, baking soda, and salt in a large bowl and set aside.
Cream the butter and sugar until light and fluffy. Add the egg mixture and beat again to combine. Add the flour mixture and stir until a stiff batter forms. Fold in the maraschino cherries and chocolate chips.
Form the batter into 1 inch balls (I used my #50 disher), and drop them onto a parchment paper lined cookie sheet 1 inch apart.
Bake for 15 minutes. Remove the cookies to a cooling rack and cool for 5 minutes. Serve warm.
Keep extras in an airtight container for up to 5 days.