March 27, 2012 – 6:16 pm
This is a quick meal for a weeknight that I came up with on the fly. It turned out pretty well and I'm happy to share it here. I think brussels sprouts might work better as the vegetable, but the asparagus was quite alright too.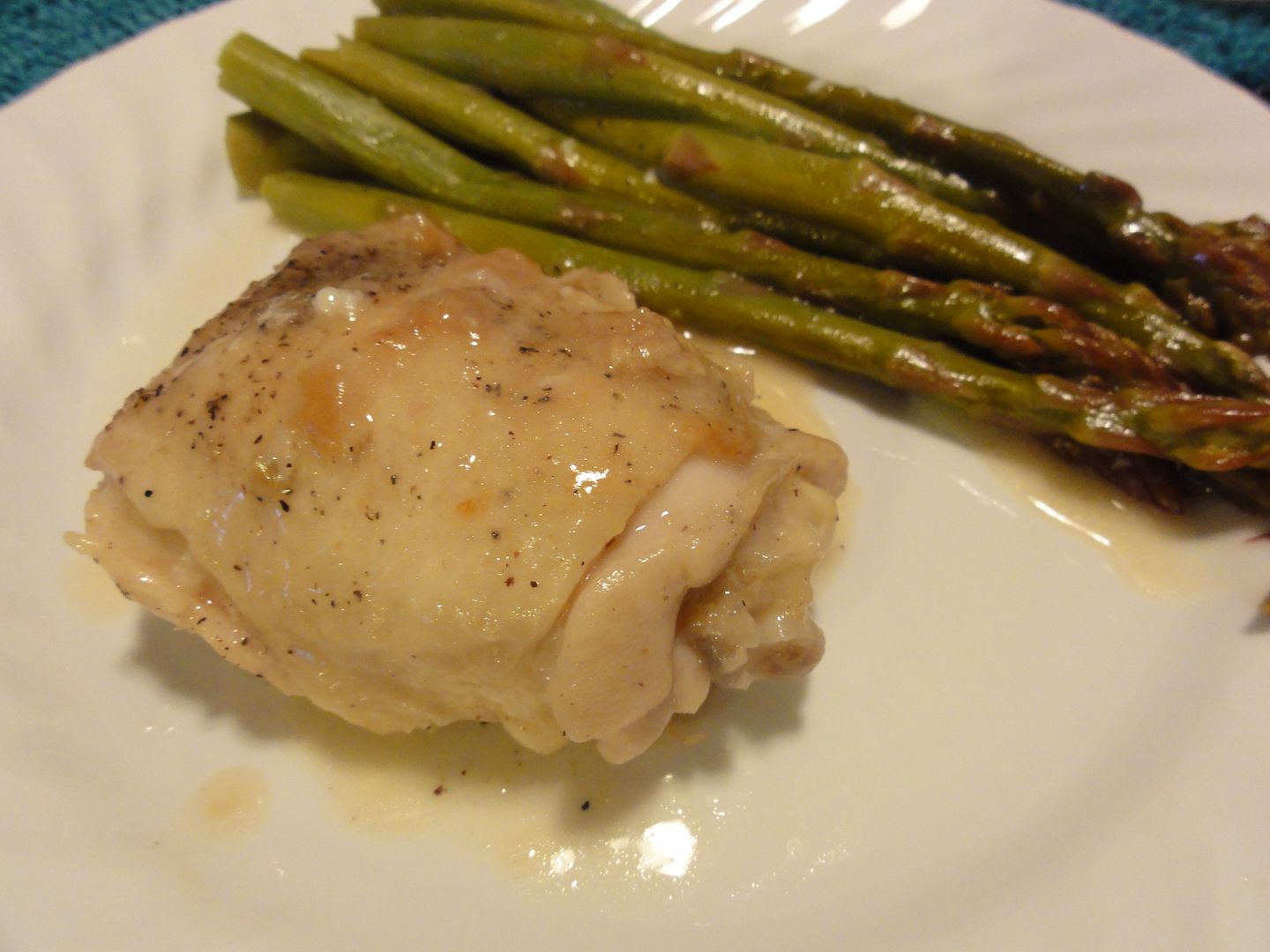 Chicken in Lemon and White Wine Sauce with Asparagus
Serves 4
1 tbsp olive oil
4 chicken thighs with skin and bone (1.75 – 2 lbs)
kosher salt and black pepper
1/8 cup all purpose flour
1/2 cup freshly squeezed lemon juice (about 2 lemons)
1 small bottle (187 ml) dry white wine (I used a pinot grigio)
1 cup chicken broth (I like non-fat, low sodium)
2 cloves garlic, pressed
1/8 tsp kosher salt
1/8 tsp white pepper
1 bunch asparagus (thick spears)
Heat the olive oil in a large skillet over medium high heat. While the oil heats, season the chicken thighs generously with salt and pepper on both sides. When the oil shimmers, add the thighs, skin side down. Brown well on both sides, about 5 minutes on the skin side and another 2-3 minutes on the other.
Scoot the chicken to one side of the pan and tilt slightly to pool the oil and rendered chicken fat on the opposite side of the pan. Add the flour to the oil and whisk to make a roux.
Add the lemon juice, white wine, and chicken broth to the skillet and whisk with the roux until a smooth mixture is formed. Season with garlic, salt, and white pepper and stir to combine. Bring the mixture to a gentle boil, then reduce the heat to medium low. Place the asparagus on top of the chicken and cover the skillet.
Cook covered for 15-20 minutes, or until the chicken reaches an internal temperature of 145 degrees F.
Serve warm.