June 21, 2011 – 5:59 pm
This is yet another iteration of a recipe I've been tweaking for some time. This version is a bit spicier, and very good 🙂 I serve this with corn tortillas and refried beans, much like the original inspiration, El Pollo Loco. Tonight I only made a half batch, but I still kept the same marinade quantities.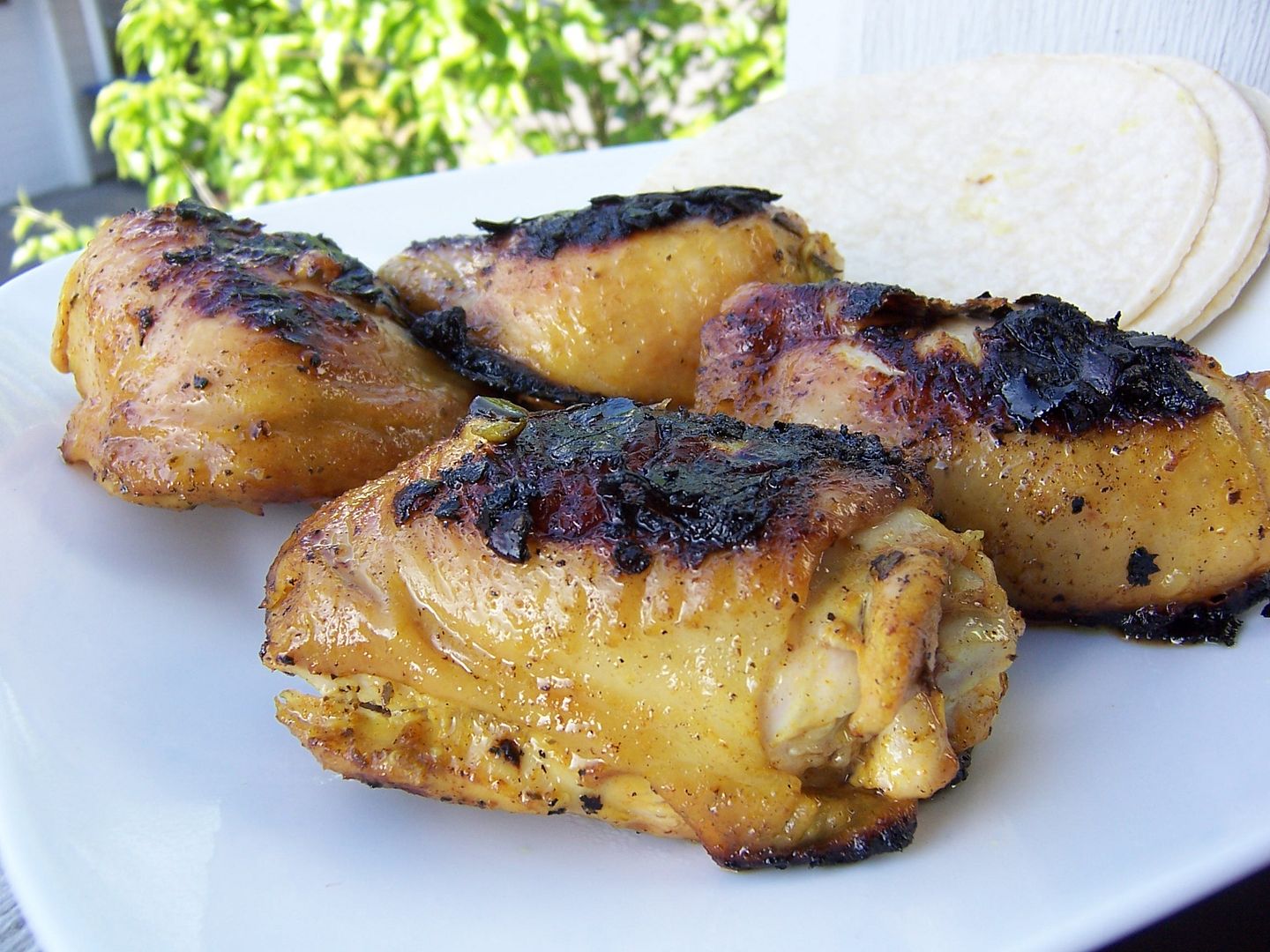 Pineapple Citrus Grilled Chicken
Serves 4
For the marinade:
6 ounces (1 small can) pineapple juice
2 tbsp freshly squeezed lime juice (1 large lime)
1 tbsp white vinegar
2 large cloves garlic, pressed
½ tsp salt
½ tsp dried Mexican oregano
½ tsp ground pepper
½ tsp turmeric
1 tsp ground cumin
1 jalapeno, minced (remove the seeds and membranes for milder, leave them in for spicier)
1 tablespoon vegetable oil
For the rest:
4 pounds chicken thighs (with skin and bone)
In large zip top bag, combine all ingredients except chicken.
Place chicken in the bag, seal, pressing all of the air out, and squish around to coat the chicken well. Refrigerate overnight, turning once.
Remove chicken from refrigerator 45 minutes before you'd like to start grilling and preheat the grill to medium heat.
Turn the grill to low heat. Starting skin side up, grill over low heat for 12-15 minutes, until the skin starts to look dry and the chicken is firm. Turn the chicken skin side down and cook for another 12-15 minutes, until clear juices are pooling in the hollows of the chicken pieces.
Increase the heat to medium and cook for a final 2-3 minutes or until the internal temperature reaches 180 degrees F and the skin is crisp and browned. Keep a close eye on the chicken as it cooks and put out any flare-ups immediately to avoid burning the meat.
Serve with beans and corn tortillas.