February 17, 2010 – 7:15 pm
A day late and a dollar short, but here's some jambalaya in celebration of Mardi Gras. I suppose it's Mercredi Gras for us 😛 I got the inspiration for this version from this recipe (originally from Cooking Light, April 2005). I tweaked my version to complete the Cajun trinity of onion, pepper, and celery, changed the liquids slightly, upped the hot sauce a bit, and included a little more shrimp, based on what I had on hand. All in all a tasty dinner, but not that different from my paella, and I'd like there to be more of a distinction. I think next time I'll add more hot sauce and a bit of cayenne to up the spiciness, and add some more of the other spices as well.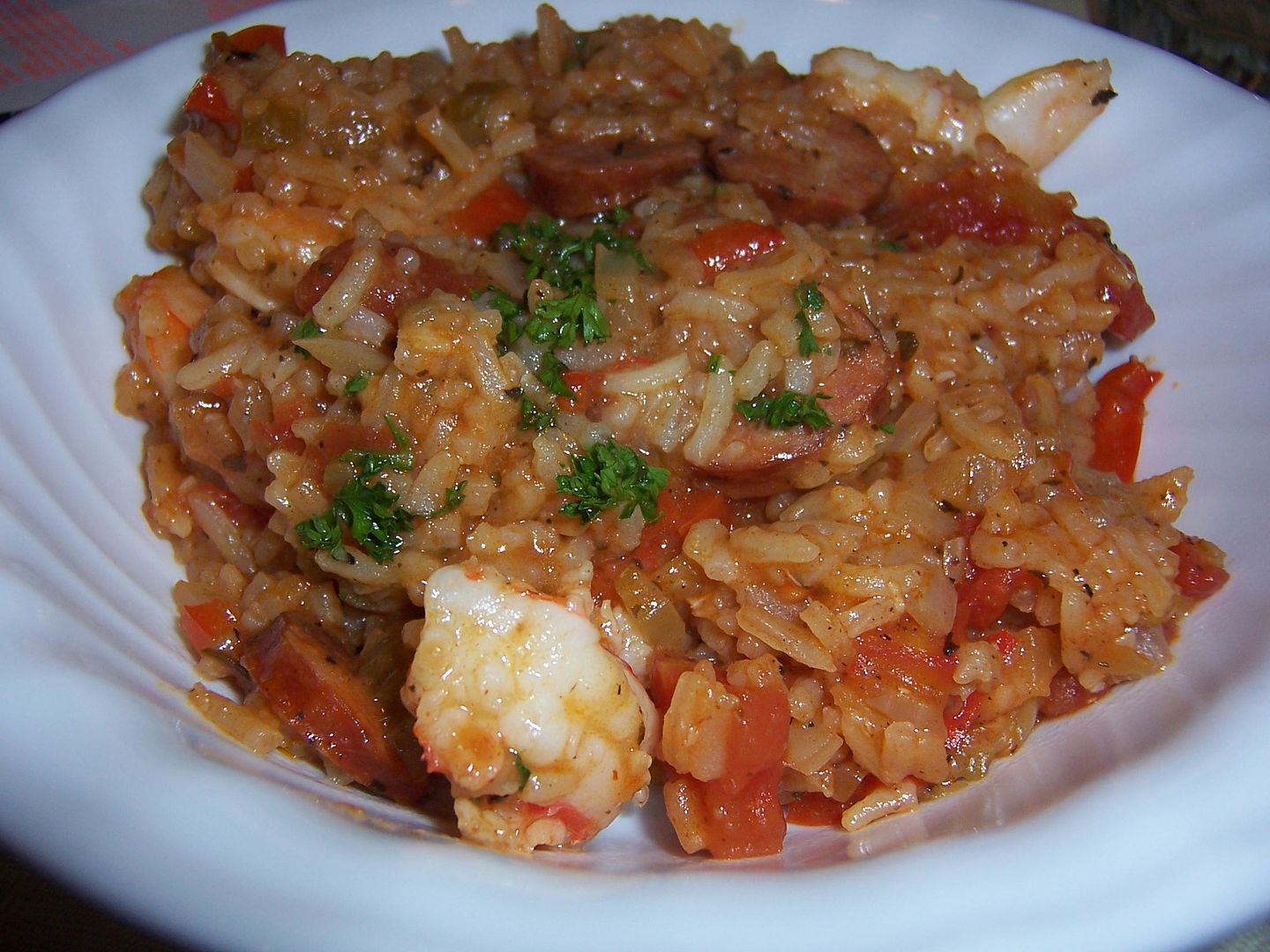 Jambalaya
Serves 4 generously
1 tbsp olive oil
1 cup chopped onion (1 small onion)
1 cup chopped red bell pepper (1 medium small pepper)
1 cup chopped celery (about 2 large stalks)
1 tbsp minced garlic (about 3 cloves)
6 ounces andouille sausage, sliced
1 cup uncooked long-grain white rice
1 tsp paprika
1 tsp freshly ground black pepper
1 tsp dried oregano
1/2 tsp dried thyme
1/2 tsp salt
1 bay leaf
1 can low sodium chicken broth (14 fl oz)
1 cup water
1 tbsp tomato paste
1 tsp hot pepper sauce
1 14.5-oz can diced tomatoes, undrained
10 oz peeled and deveined medium shrimp
2 tbsp chopped fresh parsley
Heat the olive oil in a large sauce pan or deep skillet over medium high heat. Add the garlic, onion, pepper, celery, and sausage, and saute for 5 minutes or until the vegetables are tender.
Add the rice, paprika, pepper, oregano, thyme, and salt, and stir to combine. Toast the rice for 1-2 minutes. Add the bay leaf, broth, water, tomatoes, tomato paste, and hot sauce and stir to combine. Bring the mixture to a boil, cover the pan, and reduce heat to medium low.
Simmer for 20 minutes or until the rice is cooked through. Stir in the shrimp and recover the pan. Cook for 5 minutes or until the shrimp are just cooked through. Sprinkle with parsley and serve.