January 11, 2010 – 6:39 pm
This is a take on a Chinese-American dish that appears on most any Chinese restaurant menu. My version is heavy on veggies and light on the sauce, making it quite a healthy dinner that's very tasty to boot. If you can't find Chinese black vinegar, balsamic makes an adequate substitute in this case.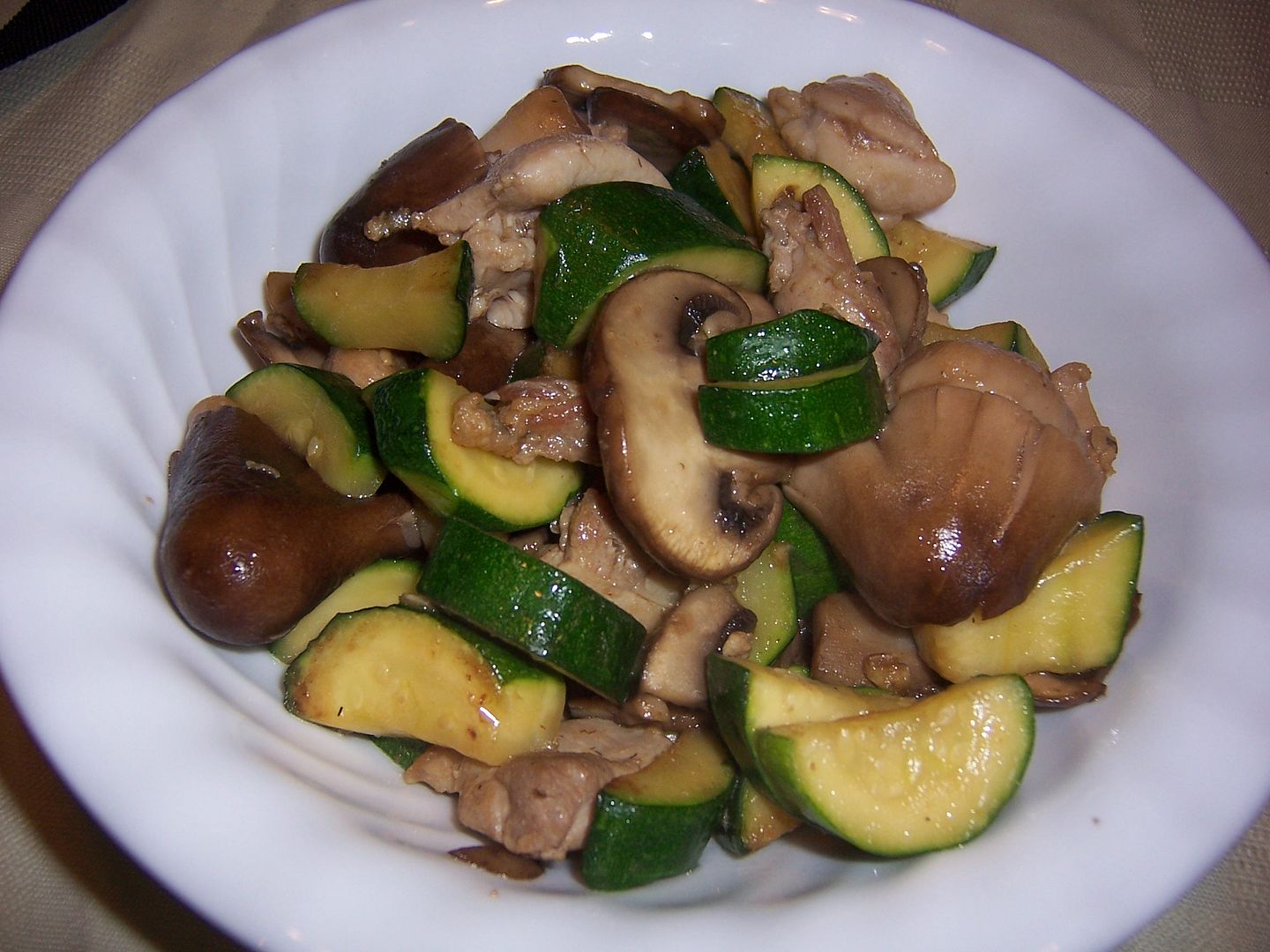 Chinese Mushroom Chicken
Makes 4 servings with rice or noodles, 2 servings if without a side
1 lb boneless chicken thighs
1 tbsp vegetable oil
1 tbsp sesame oil
4 tbsp soy sauce
2 tbsp Chinese black vinegar
2 large cloves garlic, crushed
1 tsp ground ginger
8 oz sliced crimini mushrooms
1 15-oz can straw mushrooms (8 oz drained)
4-6 small zucchini, about 1.5 lb
Cut the chicken into bite sized pieces. Halve the zucchini lengthwise and then slice into bite-sized pieces. Heat a wok over medium high heat. Pour the vegetable and sesame oil into a skillet and warm until a sprinkle of water jumps in the oil. Dump the chicken into the wok and let sit for 1 minute, getting a nice brown exterior. Toss and cook through, about another 4 minutes, stirring constantly. Remove the chicken to a bowl and keep warm.
Add the zucchini to the wok and let sit for 30 seconds to start browning. Stir fry until just turning tender, about another 3 minutes. Remove zucchini to the holding bowl.
Add the crimini mushrooms to the wok, adding a bit more oil if necessary, and let sit for 30 seconds to start browning before stir frying for another 4 minutes or until tender. Add the straw mushrooms and stir to combine. Cook for another 30 seconds.
Return the chicken and zucchini to the wok and toss to combine. Pour on the sauce and stir to coat. Cook for another minute to let the flavors meld and the sauce to slightly reduce.
Serve over rice, noodles, or alone.