January 9, 2010 – 7:05 pm
Pays d'Auge is a region of France near Normandy famous for its apples and Calvados apple brandy. This baked chicken dish of mine is inspired by that region. This recipe has been percolating in my head for awhile, and tonight I gave it a go. It was another winner! Very flavorful with perfectly cooked chicken.
For company, I'd keep it the way I have it below, but for just us, I think I'll make it next time with 1 pound of skinless boneless chicken thighs and about half the sauce and serve it over pasta. Rice would be another good side to sop up the tasty sauce.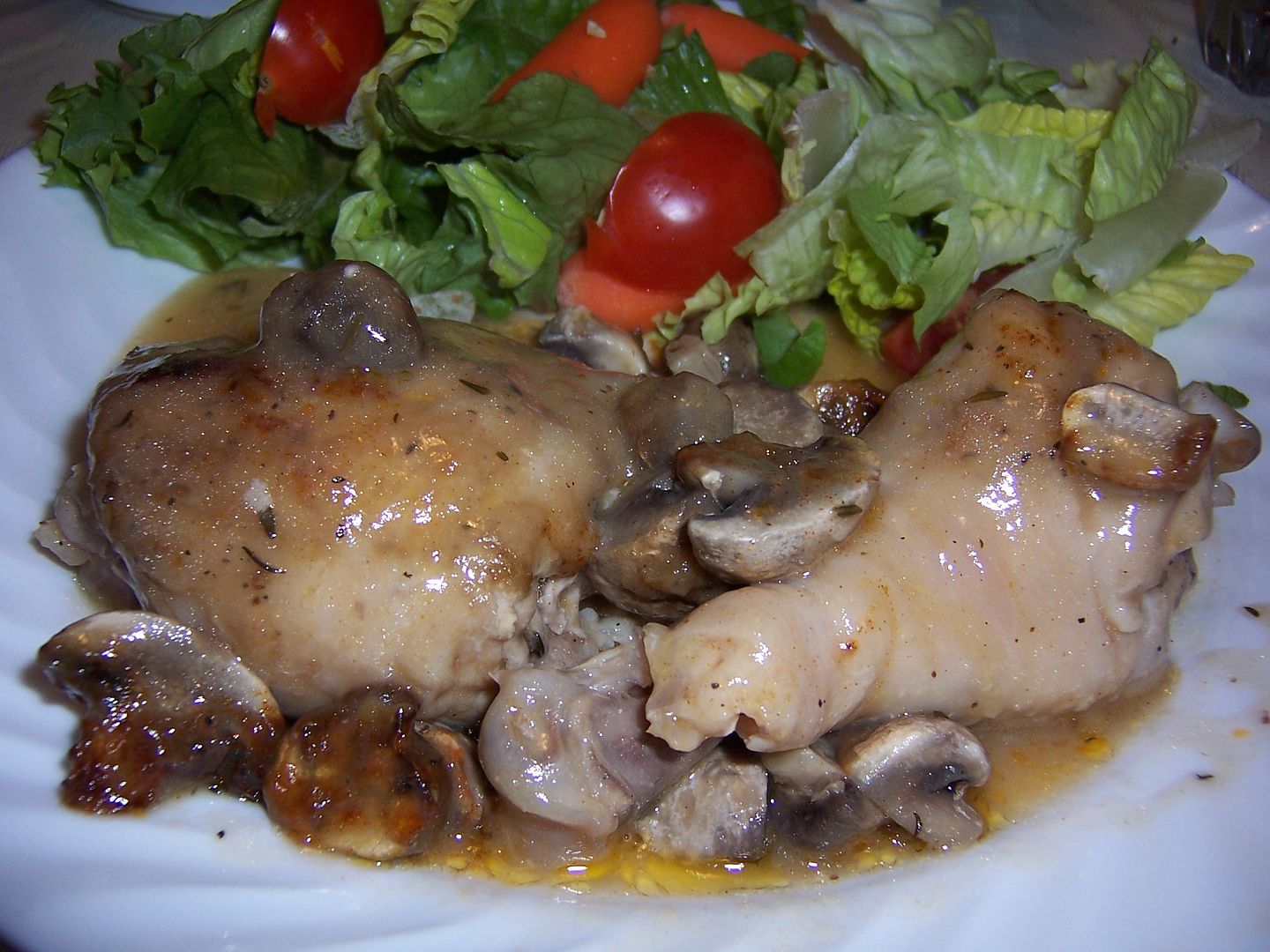 Pays d'Auge Chicken
Makes 6 servings
1 whole broiler chicken cut into pieces (3-4 lbs)
½ cup butter
½ cup all purpose flour
2 cups chicken broth
2 cups apple cider
2 tbsp apple brandy
2 tbsp Worcestershire sauce
2 cloves garlic, pressed
¼ tsp onion powder
¼ tsp dried thyme leaves
⅛ tsp black pepper
⅛ tsp salt
1 lb small mushrooms, halved
2 tbsp paprika
Preheat the oven to 350 degrees.
As the oven warms, melt the butter in a saucepan over medium heat. Add the flour and whisk to create a roux. Add the chicken broth, apple cider, apple brandy, Worcestershire sauce, and spices, and continue to whisk together until the roux is completely incorporated. Turn heat to medium high and continue to stir until the sauce comes to a boil and thickens. Remove from the heat.
Place the chicken pieces into a large baking dish, skin side up. Scatter the mushrooms over and around the chicken, and then pour the sauce over the top. Sprinkle with generously with paprika. Bake at 350 degrees for one hour 30 minutes or until the chicken is cooked through – internal temperature of 180 degrees F in the thickest part of a breast. Allow the chicken to rest for 10 minutes before serving.
Serve with pasta or rice and a green salad.