April 26, 2009 – 9:08 pm
This is a wonderful pie recipe courtesy of The Joy of Cooking, originally written for blueberries, but I made it with blackberries tonight. We froze a lot of blackberries and blueberries late last summer to use throughout the winter and spring, and we're slowly but surely working through them. The berries were a bit on the tart side, so I used a full cup of sugar, but if you have fresh super sweet berries, you can cut that back by as much as half. I also added half a teaspoon of lemon oil to add to the lemon flavor, but if you don't have it or aren't a lemon fan, feel free to omit it. For fresh berries, preheat the oven to 425 degrees F and cook for 30 minutes before lowering the heat to 350 degrees F and cooking for another 25-35 minutes or until bubbling.
Yeah, it's not the prettiest, but it sure tasted great!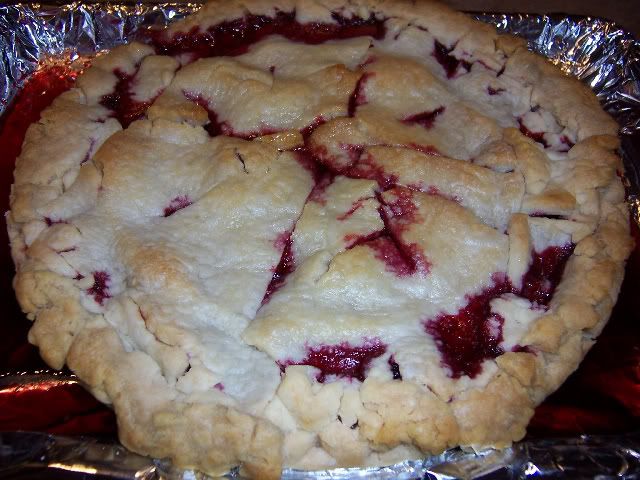 Blackberry Pie
Makes 1 deep dish pie, 8 servings
Pie crust of your choice, enough for a double crusted pie (my preferred recipe is here)
5 cups frozen blackberries
1 cup sugar
4 tbsp cornstarch
1 tbsp fresh lemon juice
½ tsp lemon oil
⅛ tsp salt
1 tbsp butter
Preheat the oven to 400 degrees F.
Mix together the frozen berries, sugar, cornstarch, lemon juice, lemon oil, and salt. Dump the mixture into a pie crust patted down into a deep dish pie pan. Dot the top with butter and then top with the other crust, crimping to seal. Cut vents in the top of the pie. Place the pie pan on an aluminum foil lined rimmed cookie sheet to catch any overflow.
Bake at 400 degrees F for 50 minutes, then turn the oven down to 350 degrees F and cook for another 25-35 minutes, or until the filling is bubbling and the crust is golden brown. If the edges are browning too fast, shield with aluminum foil and continue baking.
Allow pie to cool completely before serving.
Nutritional Information Per Slice (8 Slices Per Pie)
| | |
| --- | --- |
| Calories | 462 |
| Fat | 22 g |
| Saturated Fat | 5 g |
| Cholesterol | 4 mg |
| Sodium | 252 mg |
| Carbohydrates | 65 g |
| Fiber | 5 g |
| Protein | 3 g |
| Vitamin A | 3% |
| Vitamin C | 6% |
| Calcium | 3% |
| Iron | 12% |